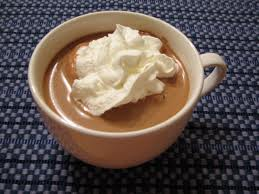 We were plowed this morning, but it is still snowing and we are not going anywhere. Our "late White Christmas" across much of the country has people everywhere settled down for a day or two.
Suzen and I and our daughter and our daughter-in-law and our grandsons awoke to a foot of icy snow. After the snowball fights, the truces, the broken truces, the snow down the backside, it was time to go inside and really make peace. The kind of peace that only comes from hot chocolate.
I cannot decide between these two hot chocolate recipes. The Rich Gourmet Hot Chocolate from Fred Thompson is pure cream while The Finest Hot Chocolate from Linda Collister is pure milk. All I can suggest is that you try both yourselves and see which works for you. Of course, whipped cream and/or marshmallow cream are essential toppings.  Yes, I meant "and." You can put down a layer of marshmallow cream and then top with whipped cream. There's nothing wrong about doing that. Nothing at all. Although, I think it would be prudent to do it in private. You can get some pretty intolerant stares from ignorant people.
Here the two recipes are. Both talk about whisking, an essential step to create froth and get a lightness to the beverage that counters the dense sensation of the chocolate.
The good news? It will be clear tomorrow so I can go to the store and buy more chocolate and milk and cream and marshmallow cream. Then it will snow on Saturday so I can drink again. It's a long, long White Christmas.
Rich Gourmet Hot Chocolate
Yield: 1 cup
Ingredients:
2 ounces bittersweet chocolate (at least 70% cacao), chopped
2 tablespoons water
2 teaspoons sugar
½ cup heavy cream
Marshmallow or sweetened whipped cream for garnish, if desired.
Preparation:
In a double boiler over low heat, combine the chocolate and water. Raise the heat to medium and whisk until the chocolate melts and the mixture is smooth. Add the sugar and whisk to dissolve.
Warm the cream in a microwave or in a saucepan over low heat. Slowly whisk the warm cream into the chocolate mixture and continue whisking until smooth and creamy.
Pour the hot chocolate into a cup and top with a marshmallow or whipped cream, if desired.
Source: Hot Chocolate: 50 Heavenly Cups of Comfort by Fred Thompson
The Finest Hot Chocolate
Yield: 2 servings
Ingredients:
3 ounces bittersweet chocolate (at least 70% cacao), broken into pieces
1 tablespoon sugar
1 vanilla bean split lengthwise
1 ¼ cups milk [whole milk please]⅓
 ⅓ cup heavy cream, whipped
Freshly grated chocolate or unsweetened cocoa powder for sprinkling
2 mugs, warmed
Preparation:
Put the chocolate pieces, sugar, vanilla bean, and milk into a small, havy saucepan. Heat gently, stirring, until the chocolate has melted, then bring a boil, beating constantly with a balloon whisk, until very smooth and frothy.
Remove the vanilla bean.
Pour into warmed mugs, top with whipped cream and a sprinkle of freshly grated chocolate or cocoa powder. Serve immediately.
Source: Chocolate by Linda Collister