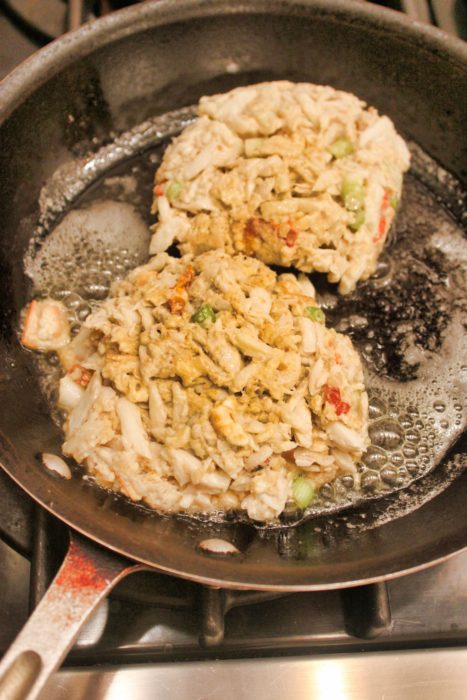 I love crab cakes and the very, very best are to be found in Baltimore. The best of the best? Faidley's in Lexington Market. I was able to find a very authentic recipe for them Chesapeake Bay Cooking. Sometimes, I do an amendment or two. A little chili heat can make these gems every better on a cool fall night.
---
Hot Crab Cakes [Amplified Faidley's Crab Cakes]
Yield: Serves 4
Ingredients:
1                 Pound jumbo lump crabmeat, picked over
1                 Cup crushed saltines
1/2              Cup mayonnaise
1                 Egg
1                 Tablespoon Dijon mustard
1                 Tablespoon Worcestershire sauce
1                 Dash Tabasco Sauce
1                 Poblano pepper, roasted, peeled and diced [with or without the seeds]
1                 Red pepper, roasted, peeled and diced [with or without the seeds]
Preparation:
Spread the crabmeat out in a flat pan and sprinkle the crushed saltines over the top.
Mix together the mayonnaise, egg, mustard, Worcestershire, Tabasco and diced peppers in a small bowl.  Pour the mayonnaise mixture over the crabmeat and gently toss or fold the ingredients together, taking care not to break up the lumps of crabmeat.  Let the mixture sit for 2 to 3 minutes before forming the cakes.
Form the cakes by hand or with an ice cream scoop into 8 mounds about 3 inches in diameter and ¾ inch thick.  Do not pack the mixture too firmly.  The cakes should be as loose as possible, yet still hold their shape.  Place the cakes on a tray or platter lined with wax paper, cover, and refrigerate for at least 1 hour before cooking.
Pour oil into a heavy skillet to a depth of about 1 ½ inches.  Heat the oil and fry the crab cakes, a few at a time, until golden brown, about 4 minutes on each side.  Remove with a slotted utensil to paper towels to drain.
Or, broil the cakes: Slip them under a preheated broiler until nicely browned, turning to cook evenly, about 4 to 5 minutes on each side.
Or, sauté the cakes: Heat a small amount clarified butter or olive oil, or a combination, in a skillet and sauté the cakes, turning several times, until golden brown, about 8 minutes total cooking time.
---
Source: Chesapeake Bay Cooking by John Lewis.
Photo Information: Canon T2i, EFS 60mm Macro Lens, F/4 for 1/50th second at ISO‑1000