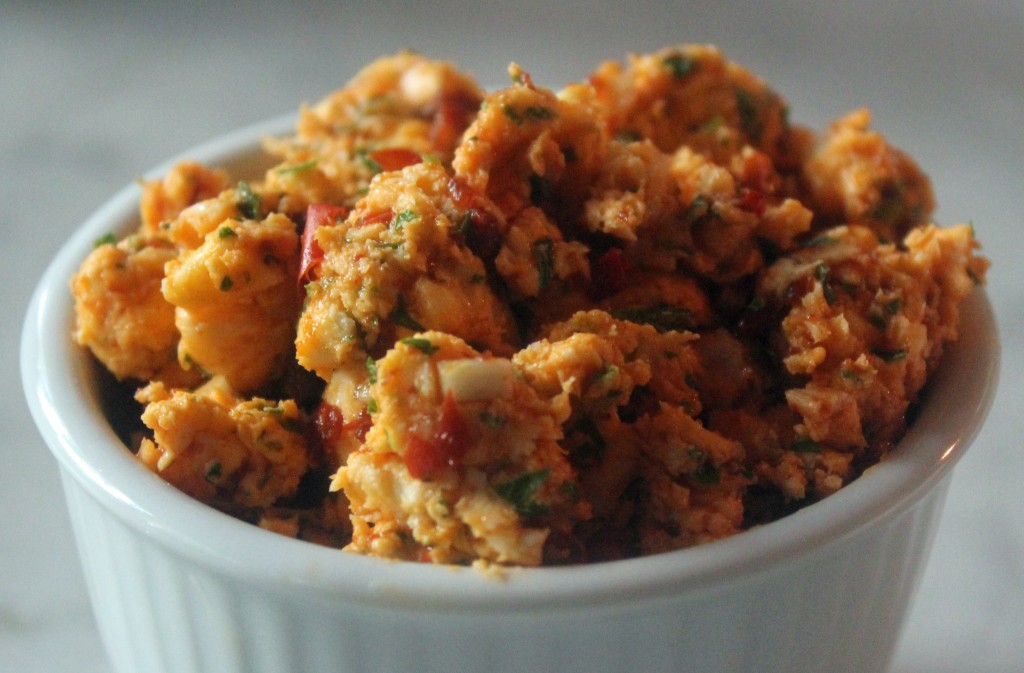 Summer corn and butter. That is a classic combination enjoyed around the world. But in corn-country, the United States, more corn is consumed by people than anywhere else on the planet. And while that simple combo of corn and butter is the favorite, new ideas appear all the time.
A few years ago, Suzen and I would put butter on our corn, then sprinkle on chile powder and maybe even splash with lime juice. It's an intensified flavor we love.
Now, we've discovered a new butter variation that is beautiful to behold and such a flavor enhancer. It's Jalapeno Butter from Fresh Mexico, the little book of 100 recipes that I found and now fall asleep with.
The recipe is right below here. The picture above is from my slight variation. I did not grill the jalapenos; instead I used two canned chipotles with some of the sauce. That's faster and hotter.
Second, I did not soften the butter first. I took a cold stick of butter and cut into ¼-inch cubes. I added the rest of the ingredients and mixed it with a fork. The result is that my version is not homogenous in color or texture. There are "pieces" of chile and parsley there that provide color and contrast.
And of course, I did not wrap it up in a tight roll so I could later cut perfect round of butter.
Other than that, I followed the recipe exactly.
The recipe was devised for corn. But, you have usage options:
A grilled steak with blackened top
A crispy baked potato
Grilled bread, crusty and waiting the moisture of melting butter
Or for whatever personal craving you might have
This dish can be classified as an indulgence. Go forth and feel no guilt.
Jalapeno Butter
Yield: ½ cup
Ingredients:
2 jalapeno chilies
1 stick unsalted butter, softened
1 large garlic clove, minced
2 teaspoon minced fresh parsley
Salt and freshly ground black pepper.
Preparation:
Grill the jalapenos, turning them occasionally, until charred on all sides, about 10 minutes. Transfer them to a cutting board and let cool for 5 minutes.
Using a small paring knife, peel the jalapenos. Scrape out the discard the seeds and veins. Coarsely chop the chiles and transfer them to a medium bowl. Add the butter, garlic and parsley and mash together. Season to taste with salt and pepper. Spoon the jalapeno butter onto the center of a square piece of plastic warp. Roll it up into a 1-inch diameter log. Refrigerate for at least 30 minutes, until set, or for up to 1 week.
Source: Fresh Mexico by Marcela Valladolid