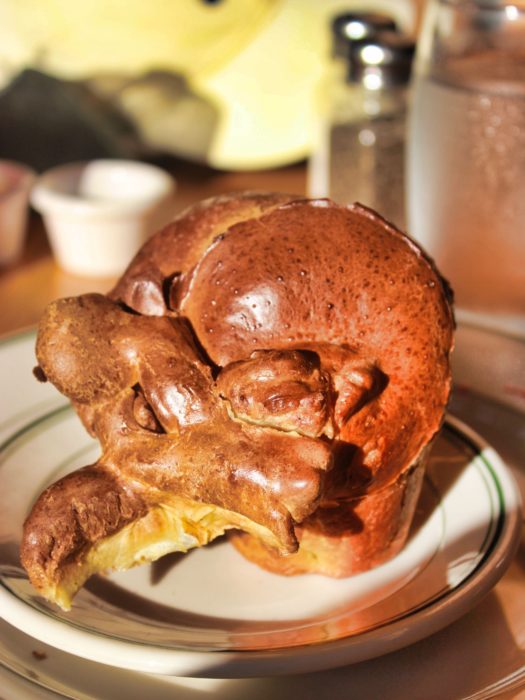 Suzi and I told people of our impending vacation in Maine. "We're starting the furthest way up," we said. "We'll go to Bar Harbor, do Acadia National Park, and then work our way south.
We got the same response from a half dozen people: "Go to Jordan Pond and have the popovers. It's a tradition."
We did. You should.
Located in the middle of the park, Jordan Pond is surround by a lovely flat 2-mile walk that you'll enjoy in any season. The full distance is 2 miles and 100 yards. For that 100 yards, there is no trail. You scamper over rocks.
"You didn't mention this," Suzen said to me. She had stopped, waiting for me to catch up with her. She's younger, faster. And sometimes testier.
"Uh, the guidebook just said there was a little rock along the way," I defended myself.
"Next time," she replied, "I'm picking the trail."
"But we're getting popovers," I tried to assure her.
I had expected a small popover shack. Instead, you'll find a massive restaurant serving full meals and popovers as exceptional appetizers. Strawberry jam, not Maine blueberry.
I asked my waitress, "Why strawberries."
"That the tradition," she smiled.
"Uh," I continued. "How many popovers do you serve a day?" I wondered.
"Oh, a few thousand. On a busy day five thousand."
One bite and you will understand why. First published in 1984, The Mount Desert Island Cookbook has this recipe for the Jordan Pond Popovers. Suzi and I will be making our own attempt this coming holiday weekend. Feel free to get an earlier start on us.
And, although it is far up in Maine, if you can ever visit Acadia National Park, then treat yourself to a perfect setting. Even if you don't walk/scramble around the pond, get the popovers.
---
Jordan Pond Popovers
Yield: 12
Ingredients:
2 large eggs
1 cup whole milk
1 cup sifted flour
¼ teaspoon salt
Speck of baking soda
Preparation:
Beat eggs at high speed in electric mixer bowl until lemon colored (2 to 3 minutes.) On slowest speed add slowly ½ cup of the milk: beat until well mixed. Sift and measure flour, salt and soda: add slowly (low speed) the dry ingredients. When mixed, stop beater, scrape sides of bowl, and turn to medium speed, slowly adding the rest of the milk.
At high speed, beat 5-7 minutes. (Batter should be smooth and about the thickness of heavy cream.) Pour batter into well-greased muffin tins or custard cups. (If muffin tin is used, fill the end cups only and to the top if you wish high, large popovers.) Bake at 425° F for 15 minutes, then reduce heat to 350° F and bake 15 minutes more.
---
Source: The Mount Desert Island Cookbook
Photo Information: Canon T2i, EFS 60mm Macro Lens, F/5 for 1/320th second at ISO‑100