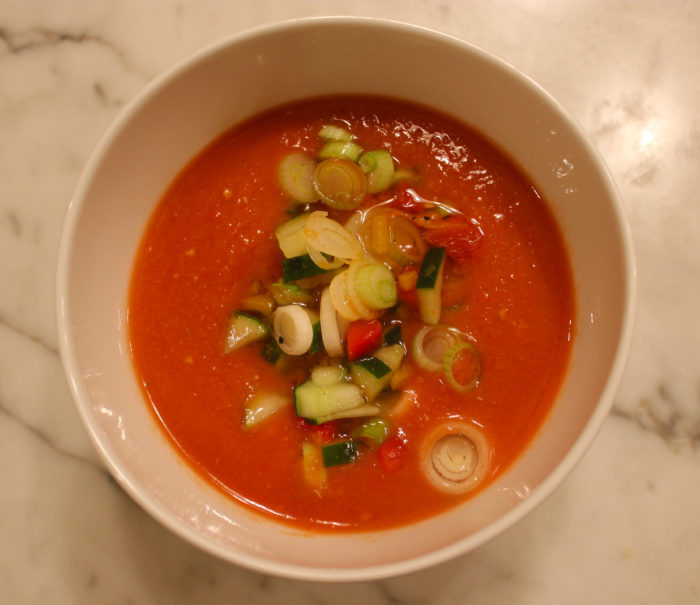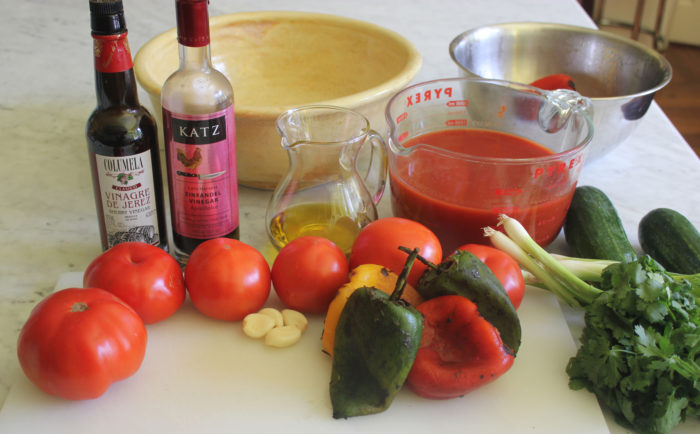 To get what I want from my wife Suzi, I resort to different means. This time, I decided to be simple, honest and straightforward.
"I would like some gazpacho," I announced.
She turned to me. Normally, I am the gazpacho maker. I continued, "There is this White Gazpacho …"
"No," she stopped me.
I could not finish my request, "White Gazpacho with Almonds and Grapes."
She knew. "You know I hate grapes in gazpacho," she said. "Give me the book. I'll make you gazpacho."
And she did. And it is better than any gazpacho I have ever made. Why? She has talent. I have a heavy hand. And this recipe, from the wonderful Daily Soup cookbook, is divine. It's got just the right ingredients, in the right proportions, with the technique down perfectly.
We both enjoyed this soup as our main course, paired with grilled bread, a light salad, and a very cold white wine.
I assure you that, if you make this recipe, it will become your "standard family gazpacho." It is wonderful.
---
Gazpacho [just perfect gazpacho]
Yield: 12 cups
Ingredients:
2 red bell peppers
2 green bell peppers
2 yellow bell peppers
2 beefsteak tomatoes, stems removed and tomatoes halved [yes, the picture shows six tomatoes because they were smallish, not beefsteak bold]
4 cups tomato juice [yes, the brand you choose will affect the flavor so use your best]
2 tablespoons olive oil
2 tablespoons red wine vinegar
1 tablespoon sherry vinegar
2 garlic cloves
1 pickled jalapeno
2 teaspoons kosher salt
1 teaspoon habanero chile, or other hot sauce
2 cucumbers, halved, seeded, into quarter inch cubes
½ cup chopped fresh cilantro
½ cup chopped scallions
Preparation:
Halve the peppers, remove the seeds and white portion, and transfer the seeds and white portion (the items normally discarded in other recipes!) to a blender or food processor.
Add the tomatoes, 2 cups of the tomato juice, oil, both vinegars, garlic, jalapeno, salt, and hot sauce and puree until smooth.
Transfer the mixture to a large bowl and add the remaining tomato juice.
Cut the peppers (flesh portion) into small dice.
Stir the diced peppers, cucumber, and cilantro into the pureed mixture.
Refrigerate until ready to serve.
To serve, ladle the soup into bowls and top with the chopped scallions.
---
Source: The Daily Soup Cookbook by Leslie Kaul et all [Hachette, 1999]
Photo Information [Top]: Canon T2i, EFS 60mm Macro Lens, F/3.5 for 1/30th second at ISO‑400
Photo Information [Bottom]: Canon T2i, EFS 60mm Macro Lens, F/4 for 1/50th second at ISO‑250