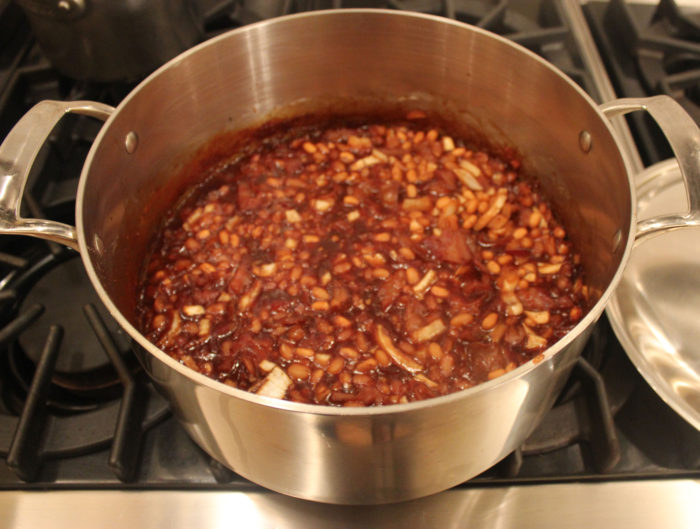 My fondness for Kahlua goes deep, decades deep. So, when I saw this recipe, I had to pause, consider, and then obediently nod. It does use some store-bought elements — chili sauce, barbecue sauce and hot sauces — but here that is a positive aspect. Those sauces will have such variety in our stores that you can experiment and endless find a "new" flavor to these beans.
When I made these, I made one slight goof. I did not reserve some of the liquid used to cook the beans when everything goes into the pot for the final cook. So, my beans were viscous and the sauce intense. Frankly, I don't think I did damage to the recipe at all.
When you first cook the beans themselves, the directions to say to cook for a long enough time to have softened beans. That's at least one hour. I stopped at one hour, because otherwise dinner was going to be at 11PM. My beans were fine, but I admit a tad al dente. The lesson here is to start this recipe in mid-afternoon, not close to 6 PM. Give yourself, and those beans, all the time needed.
Of course, on Day 2 and Day 3, these beans taste even better than Day 1. You can, too, amend the recipe and use more or less bacon. Instead of the ½ pound, I used the whole package. It was good and I would always opt for more meat.
Kahlua Baked Beans
Yield: serves 8 to 12
Ingredients:
1 ½ pounds dried navy beans, picked over
½ pound sliced bacon, preferably mesquite-smoked
2 cups finely chopped yellow onions
1 12-ounce bottle chili sauce
½ cup thick, tomato-based bottled barbecue sauce, preferably hot and smoky
½ cup Kahlua
½ cup strong brewed coffee
¼ cup Dijon mustard
¼ cup unsulfured molasses
2 tablespoons Pickapeppa Sauce, Heinz 57 Sauce, or another thick, spicy steak sauce
2 tablespoons hot pepper sauce, such as Tabasco
1 ½ teaspoons salt
Preparation:
In large bowl, cover the beans generously with cold water and soak for 12 hours.
Drain the beans. In a large pot, cover them generously with fresh cold water. Set the pot over medium heat and bring the water to a boil, then lower the heat and simmer, uncovered, stirring once or twice, for1 hour or more (depending on the age of the beans and the altitude at which you cook), or until the bean are very tender [the finished dish won't taste right unless they're on the soft side—not falling apart, but otherwise utterly tender). Drain the beans, reserving 1 ½ cups of the bean liquid.
Position a rack in the lower third of the oven and preheat the oven to 350°F.
In a large bowl, stir together the beans, the reserved bean liquid, the bacon, the bacon fat if you are using it, the onions, chili sauce, barbecue sauce, Kahlua, coffee, mustard, molasses, Pickapeppa Sauce, hot pepper sauce, and salt.
Transfer to a heavy 4 ½ – to 5-quart nonreactive casserole or Dutch oven with a tight-fitting lid. Bake for 1 hour. At the halfway mark, uncover, stir well, and bake uncovered for the last 30 minutes. Stir one more time, then bake until the beans are very thick, another 30 to 40 minutes. Serve hot or warm.
Source: Burning Desires by W. Park Kerr [William Morrow, 1994]
Photo Information [Drink]: Canon T2i, EFS 60mm Macro Lens, F/3.5 for 1/40th second at ISO‑2000