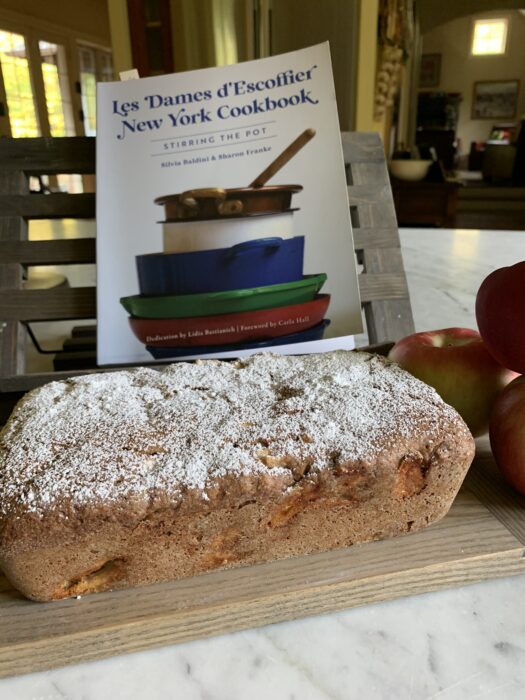 Stirring the Pot is a fascinating recipe collection from the New York branch of Les Dames d'Escoffier. Les Dames is a world-wide charitable organization with membership for distinguished women in the culinary word. Chefs, cookbook authors, teachers, wine makers, marketing gurus and more have gathered together to share their expertise and their vision.
Les Dames focuses on scholarship programs to help women, at all stages of life, gain a stronger foothold in the culinary industry. Decades of support to women has been a most rewarding effort with hundreds of women around the world receiving career boosts.
Finally, after years of encouragement, the New York branch of Les Dames has gathered a collection of recipes in their new book Stirring the Pot. Here at Cooking by the Book, we'll soon post a cookbook review. But, how can you review a cookbook without having a taste? Here's Suzi's first sample from the book and it's a fall smash: an apple bread with plenty of spice and that distinctive apple flavor you expect from pie. Except, this really is a lovely bread, ideal for breakfast or brunch or late at night. Or anytime you want the hearty pleasure of apple in your mouth.
That lovely brown color? Well, this recipe calls for full tablespoon of ground cinnamon. No half teaspoon here. The color and flavor will bring a smile to anyone.
Karen Goodlad's Favorite Apple Bread
Yield: 1 loaf
Ingredients:
½ cup (1 stick) unsalted butter, room temperature
1 cup sugar
1 teaspoon vanilla extract
2 large eggs, room temperature
1 ½ cups all-purpose flour (preferably unbleached)
½ cup cake flour
1 tablespoon ground cinnamon
½ teaspoon freshly grated nutmeg
1teaspoon baking powder
1 teaspoon baking soda
½ teaspoon salt
2 ½ cups peeled, cored and diced apple [¼ to ½ inch]
Preparation:
Preheat the oven to 350°F. Grease and flour a 9 x 5 x 3 -inch loaf pan. Using a stand mixer with the paddle attachment or an electric handheld mixer, beat the butter until soft. Add the sugar and vanilla and beat until incorporated. Add the eggs one at a time, beating to blend between additions. Scrape down the sides and bottom of the bowl between additions. On low speed, beat in I cup of the all-purpose flour; scrape down the bowl. Add the remainder of the all-purpose flour, the cake flour, spices, baking powder, baking soda and salt and beat just to blend. Mix in the apples.
Scrape the batter into the prepared loaf pan. Bake until a toothpick inserted into the center of the loaf comes out clean, about 50 minutes. Invert the cake onto a wire rack and remove the loaf pan. Return the loaf right side up and let cool. Store in an airtight
container for up to 4 days.
The cake is best served at room temperature.
 Source: Stirring the Pot by Silvia Baldini and Sharon Frank
---