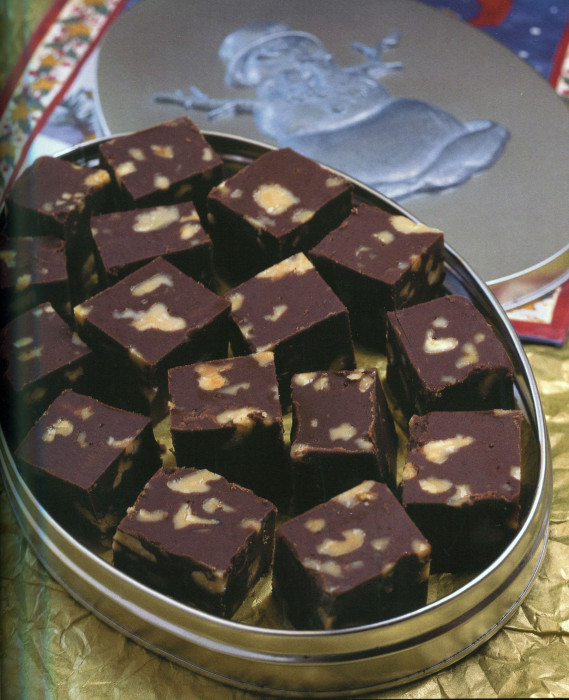 I am a generous person. Why should Christmas spirit only appear in December? Why should we limit the treasures of Christmas food?
Marcel Desaulniers wrote I'm Dreaming of a Chocolate Christmas in 2007. Lots and lots of idea, all chocolate of course. If you are not a holiday baker, not into cookies or cakes or cheesecake, surely, surely you can be seduced by candy. Oh, mere fudge does not entice you? How about Chocolate Peppermint Bourbon Walnut Fudge?
See? I knew you would crumble.
On a snowy winter weekend, with time to kill, why not?
---
Karen's Chocolate Peppermint Bourbon Walnut Fudge

Yield: 3 pounds

Ingredients:

4 tablespoons (½ stick) unsalted butter, cut into 1-tablespoon pieces, plus 1 tablespoon, melted
3 ⅓ cups granulated sugar
1 ⅓ cups heavy cream
1 teaspoon salt
16 ounces semisweet baking chocolate, coarsely chopped
1 cup walnut halves, toasted and coarsely chopped
1 tablespoon bourbon
1 tablespoon peppermint extract
Preparation:

Lightly coat an 8 X 8 X 2 —inch nonstick baking pan with the 1 tablespoon melted butter, then line the pan with plastic wrap.
Combine the sugar, cream, the remaining 4 tablespoons butter, and the salt in a medium saucepan over medium heat. Bring to a boil, stirring frequently to completely dissolve the sugar. Turn the heat down (so the mixture does not boil out of the saucepan), and continue to boil while stirring frequently until the mixture reaches a temperature of230°F (thread stage), about 6 minutes. Use a digital thermometer for an accurate reading.
Remove from the heat. Add the chopped chocolate and stir carefully with a whisk. Stir until the chocolate has melted and been completely incorporated. Add the walnuts, bourbon, and peppermint extract, and stir with a rubber spatula until incorporated. Pour the fudge into the prepared pan, spreading evenly with the spatula. Cover with plastic wrap and refrigerate until firm, about 2 hours.
To serve, remove the top layer of plastic wrap. Flip the pan upside down on top of a cutting board. Remove the plastic wrap. Cut into desired size pieces. Store in tightly sealed plastic container in the refrigerator. Bring to room temperature before serving
---
Source: I'm Dreaming of a Chocolate Christmas by Marcel Desaulniers [Wiley, 2007]