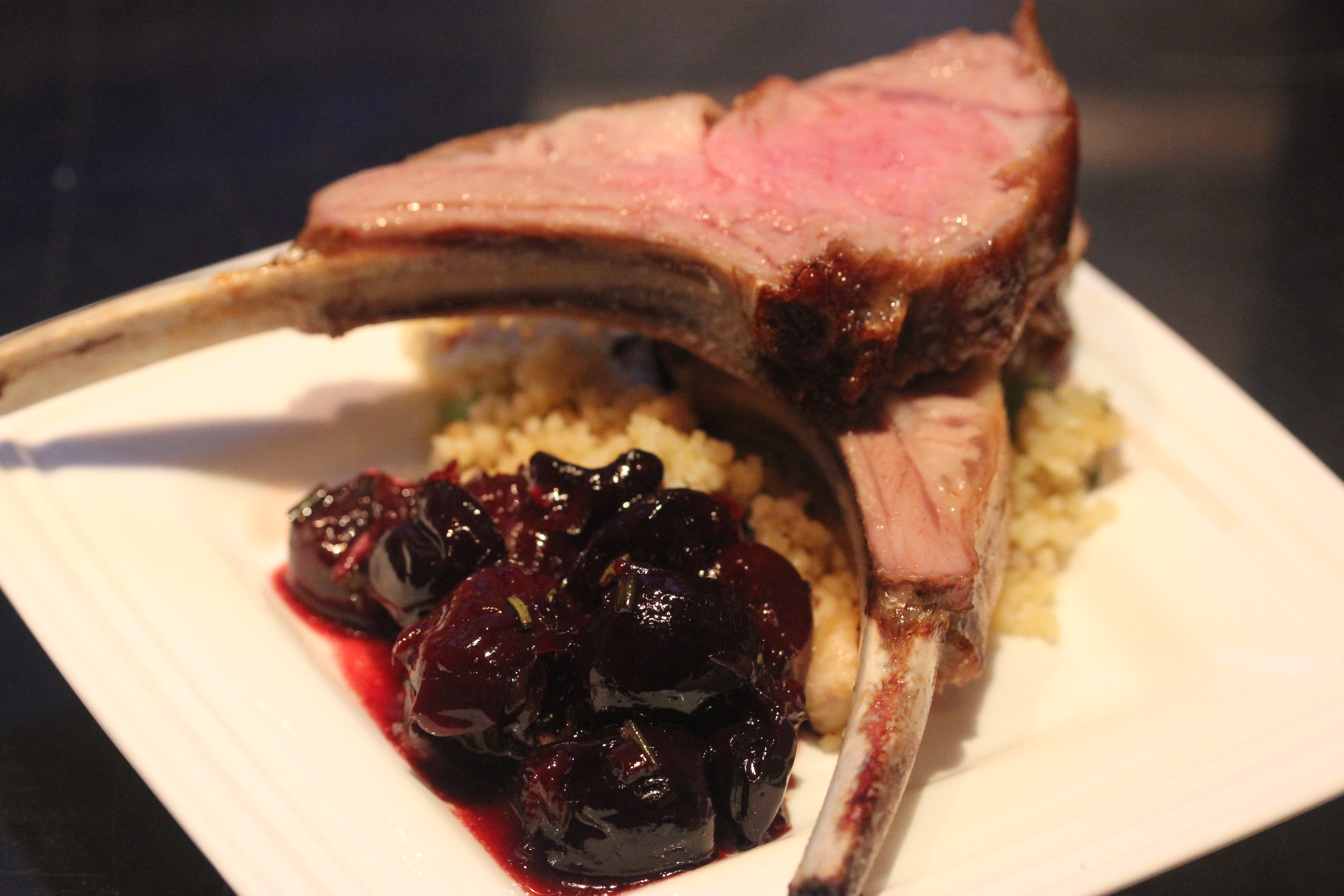 Lamb. Rich and satisfying. Chef and author Michael Chiarello loves the meat and, with his restaurant experience, knows just the proportions to serve. As an entrée, two or three chops per person is plenty. That lamb flavor can, it is true, seem overpowering. The trick is to pair that meat flavor with something contrasting but equally intense. Chef Chiarello suggests this roasted cherry vinaigrette offering just that needed flavor balance.
Serve the lamb and vinaigrette over polenta for a main course. On the side, offer a deep Pinot Noir.
This vinaigrette can be used in many other ways: topping barbequed chicken or beef toned with black grill marks, trout, and of course with salads. It's a Swiss Army knife of sauces.
The recipe below suggests cooking only half the cherries. If cherries are not available, or you prefer a different flavor, you can use pitted and halved apricots in their place.
Lamb Chops with Roasted Cherry Vinaigrette
Yield: serves 6
Ingredients:
For the vinaigrette:
1 pound fresh sweet cherries such as Bing or Rainer, pitted and halved
8 tablespoons extra-virgin olive oil
Sat salt, preferably gray salt
Freshly ground black pepper
6 scallions, white part only, cut on the bias into ¼ inch pieces
1 ½ tablespoons tarragon vinegar
1 tablespoon minced fresh tarragon
For the lamb:
18 lamb chops cut from a rack of lamb, at room temperature
Sea salt, preferably gray salt
Extra-virgin olive oil for brushing
Preparation:
For the vinaigrette, preheat the oven to 450°F. In a large bowl, mix the cherries with 7 tablespoon of the oil. Season with salt and pepper. Heat an ovenproof sauté pan or skillet over medium-high heat, add the remaining 1 tablespoon olive oil, and heat until shimmering. Add half of the cherries and toss them once or twice. Transfer the pan to the oven and roast until the cherries around the edges of the pan begin to turn lightly brown, about 2 minutes. Remove from the oven and add to the remaining half of the cherries. Add the scallions, vinegar and tarragon. Taste and adjust the seasoning. Set aside.
For the lamb chops, prepare a hot wood fire in a charcoal grill or have a grill pan ready. Season both sides of each chop with salt. Brush lightly over with olive oil. If using a grill pan, heat the pan over high heat and oil and pan. Grill the chops for 3-4 minutes on each side. Transfer the chops to a platter and let rest for 5 to 10 minutes.
If serving with polenta, place a mound of polenta on each warmed plate. Place 3 chops on the top of the polenta with bones pointing towards the plate's center. Top with a spoonful of vinaigrette. Ladle any extra vinaigrette into small ramekins to pass at the table.
Source: Adapted from Michael Chiarello