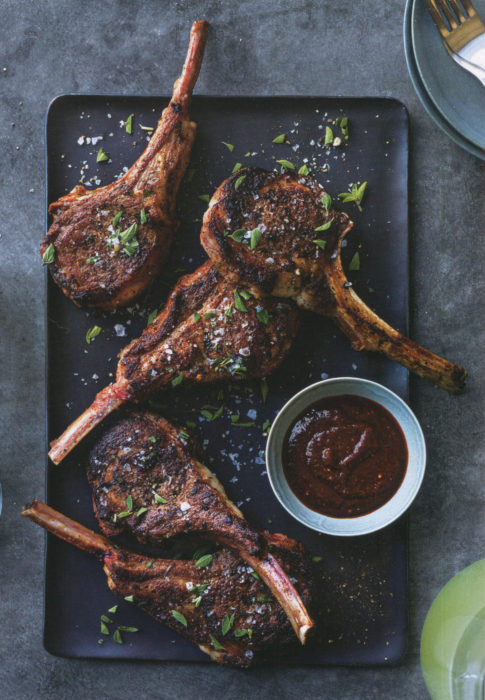 Suzi was doing her semi-annual labor of love: fashioning a new menu for her cooking school, Cooking by the Book. It's the only fully hands-on cooking school in New York City, so she has to find recipes that a team of twenty can prepare in about one hour in our kitchen.
Her visiting team will cook for that hour then retire to our dining room to eat what they have prepared. They know in the kitchen they are preparing their next meal. What they don't know is all the smiles that will appear by the end of the night.
This lamb dish is supposed to be grilled outdoors but it does say you can use your broiler. You can do this in under an hour. I'm sure. And I want this dish, so I tried again.
"Suzi," I began, "I just found the most amazing recipe for lamb chops."
She turned, not scowling but not happy. "What's the rule, Brian. We can't offer our guests pork or bunny or baby deer or little lambs. Someone in the group is going to freak out."
"Can you just cook this for me? For Father's Day?"
"Show me the recipe." I did. "Gee, this looks great," she said. "Too bad so many people are going to miss out on a good thing."
"Yeah, too bad," I agreed. Though truth be told, I can always talk Suzen into pork or bunny or baby deer or little lambs. Although in this case you do want chops from a fully grown lamb. You want meat.
This is another recipe from the powerful book Rustic Mexican by Deborah Schnieder. It's simply a perfect cookbook. Begin to scan the recipes and you'll find yourself gravitating to the kitchen — perhaps with a run first to your grocery store for ingredients. It's an important book with a spectrum of recipes that can complement all your margarita fantasies.
Oh, yes, Rustic Mexican does have a rabbit recipe: Rabbit in Chile Sauce [onions, green onions, guajillo chiles, and ancho chiles]. You'll like it, too.
---
Lamb Chops with Pasilla Chile Sauce from Rustic Mexican
Yield: serves 4 to 6
Ingredients:
For the lamb:
½ cup (125 ml) olive oil
Juice of 1 lemon
1 tablespoon minced garlic
2 teaspoons ground cumin
2 teaspoons ancho chile powder
½ teaspoon red pepper flakes
Fine sea salt and freshly ground black pepper
2 sprigs fresh oregano, minced
6 sprigs fresh flat-leaf parsley, minced
12-18 thick-cut lamb chops, 4-6 oz each
For the sauce:
4 large dried pasilla chiles (about 2 oz), preferably imported from Mexico
2 medium tomatillos, husked and rinsed
¼ yellow onion, sliced
1 clove garlic, sliced
⅛ teaspoon dried oregano, preferably Mexican, rubbed
1 cup (250 ml) chicken stock, preferably homemade
Preparation:
To prepare the lamb, in a bowl, combine the olive oil, lemon juice, garlic, cumin, ancho powder, red pepper flakes, 2 teaspoons salt, a sprinkling of pepper, the oregano, and parsley to make a paste. Smear the paste evenly to coat all sides of the lamb chops. Marinate at room temperature for at least 1 hour, or in the refrigerator up to overnight.
To make the sauce, heat a heavy griddle over medium-high heat. Remove the stems from the chiles, then cut a slit up one side of each chile and remove the seeds. Open the chiles up flat. One at a time, press the chiles flat onto the hot griddle until blistered and light brown. Turn and repeat. Tear into small pieces and set aside.
In a 2-quart saucepan over medium-high heat, combine the tomatillos, onion, garlic, ½ teaspoon salt, and 1 cup (250 ml) water. Bring to a simmer and cook until the tomatillos are barely soft, about 7 minutes. Remove from the heat. Add the chiles to the saucepan and press down into the hot liquid. Let soak for 15 minutes.
Place the contents of the saucepan, including the cooking liquid, in a blender. Add the oregano and puree until the sauce is completely smooth, 2 minutes. Add¾ cup (180 ml) of the chicken stock and pulse to combine. Strain the sauce through a coarse sieve or food mill to remove all particles of chile skin. Rinse out the blender with the remaining¼ cup (50 ml) stock and add to the sauce. You will have about 2 cups (500 ml) sauce. (At this point, the sauce may be refrigerated and reheated just before serving.)
Preheat a gas grill or cast-iron grill pan on high heat, or position an oven rack 4-6 inches (10-15 cm) below the broiler and preheat on high. Cook the chops on both sides to the desired doneness, as measured with an instant-read thermometer (130°F/54°C for medium-rare). For smaller chops, the cooking time may be as brief as 2-3 minutes per side.
Serve the chops on warmed plates, passing the sauce in a separate bowl.
---
Source: Rustic Mexican by Deborah Schneider [Weldon Owen, 2017]