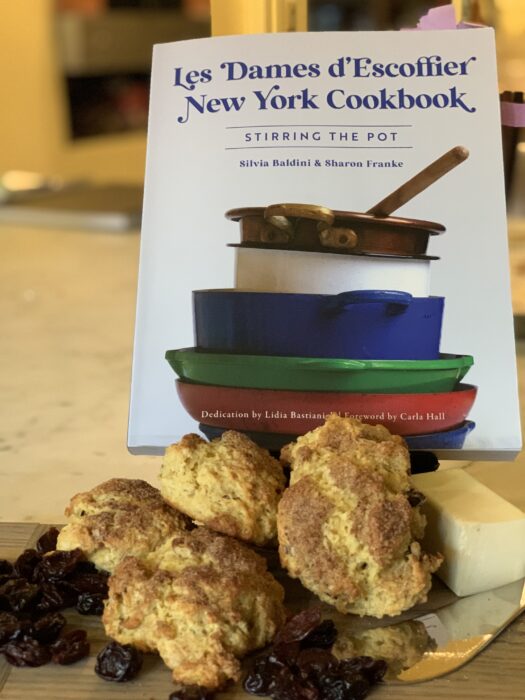 I love biscuits. And now, how do I love scones? By the dozen. Scones are a Scottish creation from the 1500s but in recent decades they have advanced around the planet.
Your classic, basic scone recipe has 7 ingredients: flour, sugar, baking powder, salt, butter heavy cream or buttermilk and eggs. That's it. So when you fruit or frosting in the baking case, you know you are about to sample a "newer" version of scone.
Nothing wrong with that. But, but sometimes ideas for scones seem to go way beyond the classical and way beyond Scotland.
In this case, "way beyond" is "way good." Susan Westmoreland has contributed to the new cookbook Stirring the Pot by the New York Chapter of Les Dames d'Escoffier. Susan is Italian which is why her recipe employs lemon and ricotta. There are not any lemon trees on the moors of Scotland. Ricotta is strictly Italian, although it does date to the Bronze Age even before the glory of Rome.
Susan's twist on the scones may be quite a departure but you'll be sold at the first bite. This scone is so delicious and soft that you just eat it. It alone. No heating up, no butter, no jam. Just the wonderful texture of her scone, punctuated by those dried cherries.
Yes, cherries are native to Scotland. Before global warming, the cherry season in the UK could be as short as two weeks. In neighboring Ireland, the cherry is a Celtic symbol for youth, beauty and love.
They are really good in scones, too.
---
Lemony Ricotta Scones with Dried Cherries
Yield: 12 scones
Ingredients:
2 cups all-purpose flour
¼ cup sugar
2 teaspoons baking powder
1 teaspoon baking soda
1 teaspoon finely grated lemon zest
½ teaspoon anise or fennel seeds (optional)
¼ teaspoon salt
¼ cup cold butter, cut into pieces
½ cup coarsely chopped walnuts or walnut pieces
½ cup dried tart cherries
1 cup whole milk ricotta cheese
2 large eggs
1 teaspoon vanilla extract
Cinnamon sugar (1 tablespoon sugar mixed with ½ teaspoon of ground cinnamon)
Preparation:
Preheat the oven to 425°F. Line a large baking sheet with parchment paper.
In a food processor, combine the flour, sugar, baking powder, baking soda, lemon zest, anise seed (if using) and salt; pulse to blend. Add the butter and pulse until coarse crumbs form. Add the nuts and pulse just until coarsely chopped. Dump mixture into a large bowl. Stir in the cherries.
In a small bowl, mix the ricotta, eggs and vanilla until blended. Add to the dry ingredients and stir just until combined.
Using ¼ cup scoop or measuring cup, scoop out the dough, forming 12 mounds on the prepared baking sheet, spaced 2 inches apart. With moist fingers, slightly flatten the scones. Sprinkle the tops with cinnamon sugar.
Bake the scones until golden brown, 15-17 minutes. Transfer the scones to a wire rack and serve warm or at room temperature.
Source: Stirring the Pot by Les Dames d'Escoffier New York Cookbook [2023]
---