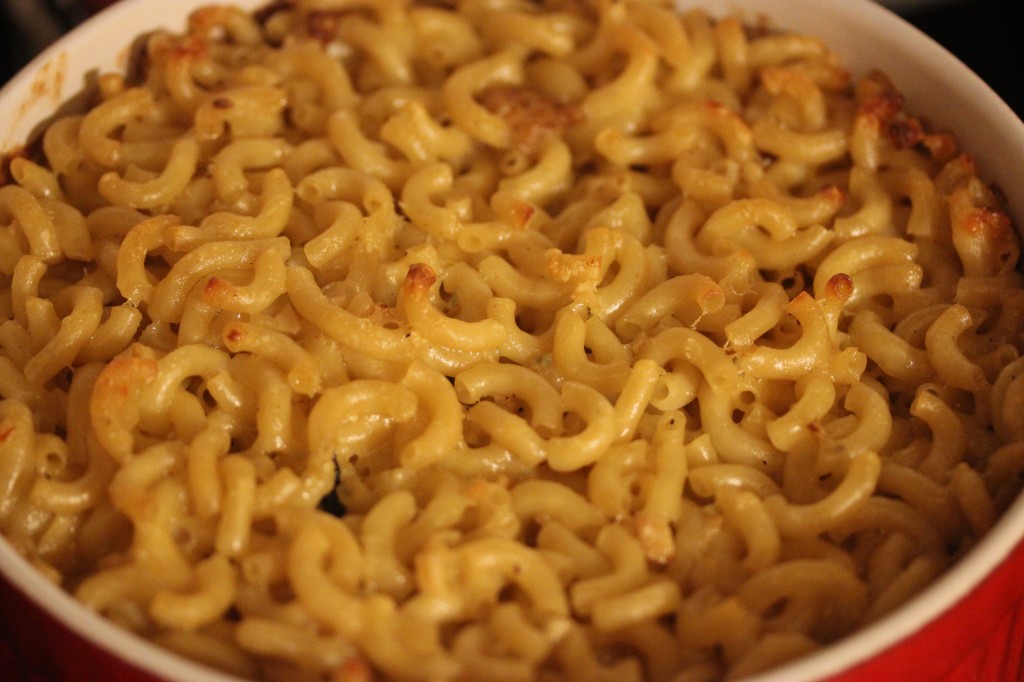 We all have our fetishes. Author Laura Werlin's is cheese. Author of six cheese books, including Grilled Cheese, Please!, she now graciously offers up Mac & Cheese, Please!
You want this book. I know, in recent years, restaurants "discovered" mac & cheese and offered it up to us. Filled with ridiculous ingredients, costing outrageous sums, most of the restaurant disasters are now off the menu. They were a bad, price-gouging idea.
Laura does it right. Her little book has 50 recipes, from the simple classic — the recipe is below and is fabulous — to an array of exotic and sumptuous offerings:
Smoky, silky parsnip, mushrooms, and espresso mac & cheese
Truffled mac & cheese
Pizza mac & cheese with ciabatta croutons
Mushroom, bacon, and eggs mag & cheese
The book has so many wonderful ideas, combinations that make you just stop and wonder: is this woman serious? Yes, she is, and each one of these recipes represents careful testing and balancing of flavors.
This post appears on New Year's Day, so you probably won't be buying it and using it today. But, in the coming winter weeks, watching all those games, are you having people over? Are you taking food over to friends? Then this book is the way to offer a feast that will surprise and please.
But, to begin, here is the first recipe in the book. It does not have truffles or waffles or nuts or bacon. It's just mac & cheese. Good old mac & cheese. The best good old mac & cheese you can imagine.
Classic Mac & Cheese
Yield: serves 6
Ingredients:
1 tablespoon plus 1 teaspoon kosher salt
8 ounces small elbow macaroni
5 tablespoons salted butter, plus more for baking dish
2 cups coarse, fresh bread crumbs [preferably homemade]
2 ounces Parmigiano-Reggiano or Pecorino Romano cheese, finely grated [about 1 cup]
¾ cup finely diced yellow onion [about ½ medium onion]
2 tablespoons all-purpose flour
2 cups whole or reduced-fat milk
1 cup heavy cream
6 ounces medium or aged cheddar cheese, preferably orange, coarsely grated [2 cups]
6 ounces Gruyere cheese, coarsely grated [2 cups]
½ teaspoon mustard powder
¼ teaspoon cayenne pepper
⅛ teaspoon ground or freshly grated nutmeg
Preparation:
Preheat the oven to 375°F. Butter an 8-inch square [1 ½ quart] baking dish or pan [or six 8-ounce ramekins]. Set aside.
Fill a 4- to 5-quart pot about three-quarters full with water and add 1 tablespoon of the salt. Bring to a boil and add the pasta. Cook, stirring once or twice, until tender but firm, about 4 minutes, and then drain. Reserve the pot.
While the pasta is cooking, in a medium skillet, melt 2 tablespoons of the butter in a medium skillet over medium heat. Turn off the heat and add the bread crumbs and Parmigiano-Reggiano. Stir until mixed well. Set aside.
Using the same pot you used to cook the pasta, melt the remaining 3 tablespoons of butter over medium heat. Add the onion and cook, stirring occasionally, until soft and translucent, about 5 minutes. Slowly whisk in the flour and stir constantly until the onion is coated with the flour, 30 to 45 seconds. Continue stirring for about 2 minutes more, or until the mixture starts to darken slightly and smell a bit nutty. Slowly whisk in the milk, cream and the remaining 1 teaspoon salt and cook until the mixture is just beginning to thicken and bubble around the edges, 5 to 7 minutes. It should be similar in texture to cake batter. If it's soupy, continue cooking until it thickens. Add 1 ½ cups of the cheddar, the Gruyere, mustard powder, cayenne, and nutmeg and stir until the cheese have melted and the sauce is smooth but not too runny. Again it should be similar in texture and the sauce is smooth but not too runny. Again, it should be similar in texture to cake batter. If it's soupy, continue cooking, stirring constantly, until it thickens.
Add the pasta and stir to combine. Pour into the prepared baking dish. Sprinkle with the remaining ½ cup of cheddar and top with the bread crumb mixture. Place the dish on a rimmed baking sheet, lined with foil, and bake until bubbling and golden brown, about 30 minutes. Let cool for 15 minutes before serving.
If you desire, you can try these add-ins:
6 to 8 cooked and crumbled slices of bacon
Oven roasted tomatoes added after the cheeses have been added
Arugula [added after the cheeses have been added and are smooth]
Roasted red peppers [add ¾ cup coarsely chopped peppers from a jar along with the pasta]
Source: Mac & Cheese, Please! By Laura Werlin