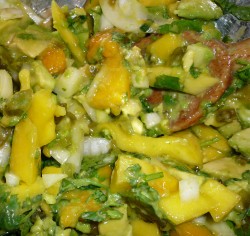 Nothing can really beat classic guacamole. That pure green mixture with the unique flavor is a culinary masterpiece.
On the other hand, sometimes you want or even need a twist to the flavor. If you are having a strong barbeque dish, say chicken or chops that are cooked until the outside begins to blacken, it's a great contrast to have a cool, sweet side dish. This Mango Guacamole is just the trick.
The secret ingredient here, unlike classic guac, is to replace the standard jalapeno with hot/sweet pickles. You can find varieties of these pickles in many stores and we'll be posting a recipe later this summer when our own cucumbers are ready in the garden.
This guac is, naturally, perfect for some chips and a salt-rimmed margarita. But just on the side of your plate, it's a lively way to add character to your meal.
Normally, when we make guac we use a pastry cutter to mash the ingredients. Here, it's chunky style so the size you get is the size you cut.
Mango Guacamole
Yield: about 3 cups
Ingredients:
1 medium sweet onion
½ cup hot/sweet pickles
2 ripe mangoes
2 avocadoes
Juice of 2 lemons
Handful of cilantro
Salt and pepper to taste
Preparation:
Dice the onion and place into a bowl. Dice the pickles and add the pickles and any pickle juice to the bowl. That pickles juice is an important contributor to the flavor.
Skin the mangos, cut off the meat and dice. Add to the bowl.
Skin the avocados, remove the pit, and carefully slice up each half into "smallish" pieces, say ¼ by ¼ by ½ inch. You are doing the avocados at the end here to prevent them from discoloring. Add them to the bowl
Juice the lemons over the bowl. Then dice the cilantro and add. Stir to mix. You may want to add some salt, possibly some pepper, but you need to taste first.
Refrigerate until ready to serve.
Source: Brian O'Rourke