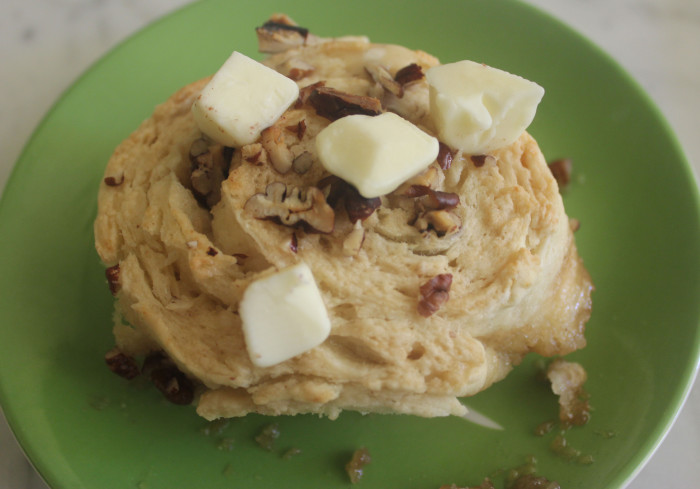 In Biscuit Bliss, James Villas suggests that your perceptions of a "simple biscuit" might be wrong. In fact, those perceptions are wrong. While a straightforward light and fluffy biscuit is sublime — with that butter and jam or honey — the fact is that biscuits can be far more complex in flavor and even construction.
Here the flavor is stepped up, way up, by using nuts and maple syrup. And the biscuit dough is first rolled, like a classic jelly roll, and then sliced, so the resulting biscuits have this inherent waviness to them. One flakey layer after the next.
No jam is needed since these biscuits are baked in maple syrup. But, some butter on top is just fine. Let it melt and ooze into the flakey crevices. Try these once and you'll be making them weekend after weekend.
Oh, they are a delight for Wednesday morning breakfast, too. Gets you through week. This recipe suggests walnuts but Suzi and I always do pecans.
You can catch my review of Biscuit Bliss right here.
---
Candied Pecans

Yield: 1 pound, almost 2 cups

Ingredients:

2 cups all-purpose flour
2 teaspoons baking powder
½ teaspoon salt
2 tablespoons sugar
6 tablespoons (¾stick) chilled butter, cut into bits
⅔ cup whole milk
½ cup chopped walnuts
1 cup pure maple syrup
Preparation:

Preheat the oven to 425°F. Grease a 7 x 5 x 3-inch baking pan and set aside.
In a large mixing bowl, whisk together the flour, baking powder, salt, and sugar. Add half the butter bits and cut in with a pastry cutter till the mixture is mealy. Gradually add the milk and stir soft dough forms.
Transfer the dough to a lightly floured work surface and roll out into a rectangle ½ inch thick. Dot the dough with the remaining butter and sprinkle ¼ cup of the nuts evenly over the top. Roll tightly lengthwise as for a jelly roll and cut the roll into 1-inch- thick slices.
Arrange the slices in the prepared pan, drizzle the maple syrup evenly over the tops, sprinkle the remaining ¼ cup nuts over the tops, and bake in the center of the oven till cooked through and sticky, 15 to 20 minutes.
---
Source: Biscuit Bliss by James Villas [Harvard Common Press, 2004]

Photo Information [Top]: Canon T2i, EFS 60mm Macro Lens, F/4 for 1/30th second at ISO‑640

Photo Information [Bottom]: Canon T2i, EFS 60mm Macro Lens, F/4.5 for 1/60th second at ISO‑2000