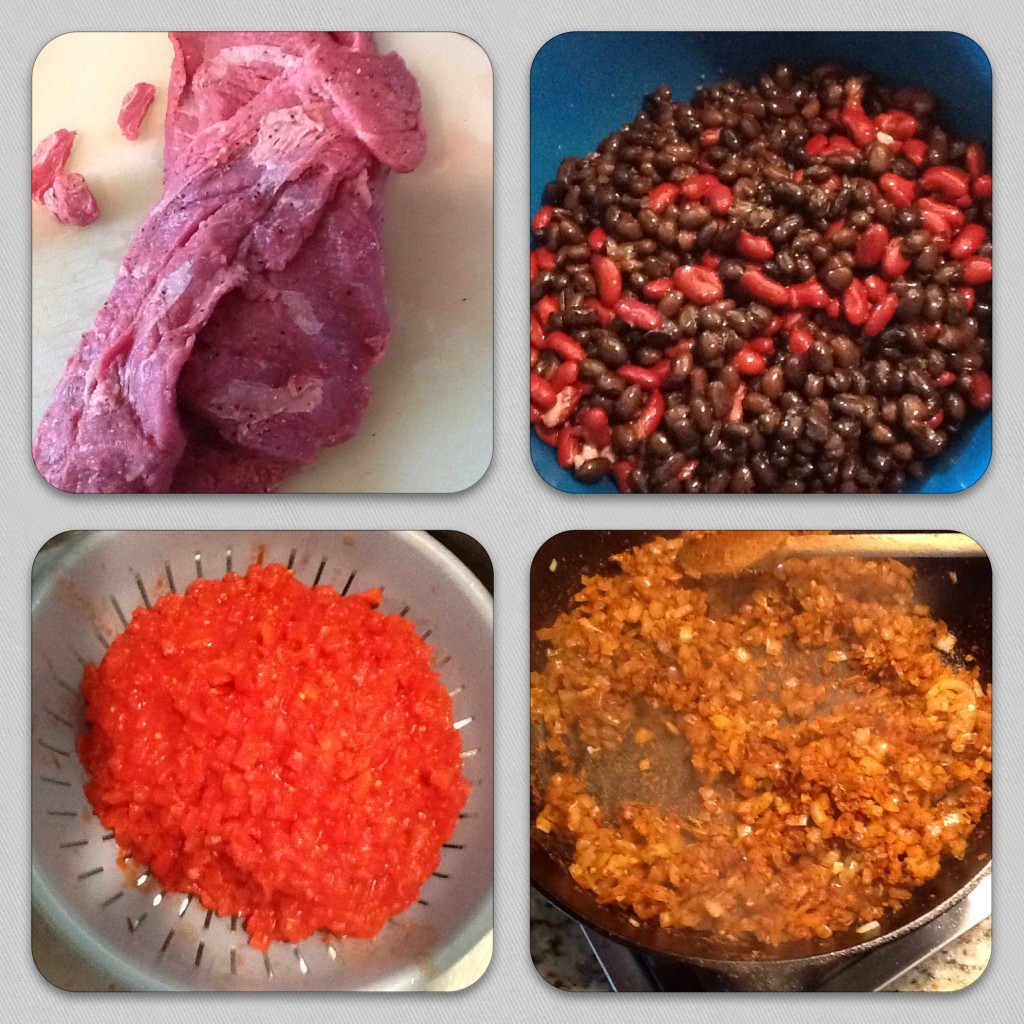 Chili or chile? Bean only, meat only, or both?
My son Michael settled on "chili" and has offered this chili recipe at the annual Halloween party for years. It's a great recipe, full of meat and beans. It's easily scaled up for a party size and can be cooked ahead of time. You can even freeze the leftovers, but there won't be any.
The original recipe called for round steak or chuck. Here we are substituting fajita meat. Yes, it comes packaged in plastic bag as is filled with flavoring stuff. Very good for chili.
Make this the morning or afternoon of your party, let it simmer for hours, then crank up the heat and serve hot with sour cream, diced onions and shredded cheese. This recipe is as healthy or unhealthy as you want it to be.
This is one of those infinitely variable recipes. Feel free to add more or less beans. You can make it 2 tablespoons, not teaspoons, of oregano. Let your taste buds guide. Remember this, you can always add some more heat at the end by stirring in more chili powder, green chilies or chili sauce. It is very hard to unheat a dish. Taste test along the way and you won't go wrong.
Michael's Pedernales River Chili
Yield: 10+ servings
Ingredients:
2 tablespoons of oil for each batch of fajita meat being browned
8 pounds of packaged fajita meat
2 tablespoons of oil
1 large onion, chopped
2 large cloves garlic, minced
2 teaspoons minced oregano
1 teaspoon ground onion
1 tablespoon red chili pepper
2 7-ounce cans of diced green chiles, mild
3 14-ounces cans of diced tomatoes, drained
3 tablespoons tomato paste
2 cups beef stock
2 15 -ounce casn kidney beans
2 15-ounce cans black beans
Salt and pepper to taste
Preparation:
Heat the oil in a heavy pan over medium heat and add the fajitas. Cook until lightly browned. The packaged fajitas will release a lot of liquid. Pour off the liquid, allow the meet to cool, then dice to bite size pieces. You will probably need to cook the 8 pounds of fajitas if 4 stages.
If necessary, add some more oil to the pan. Sweat the onions, add the garlic just at the end and cook it lightly. Don't burn the garlic.
Put the cut fajitas, cooked onion and garlic, and all the other ingredients in very large pot. Bring to a boil, lower the heat, and simmer for an hour or slightly more. Skim occasionally. Season with salt.
If the party is some time off, turn off the heat and keep the pot covered. Check to make sure the mixture never cools to room temperature and, if necessary, add some heat to get the chili back to hot. Just before serving, crank the heat one last time to have the chili hot enough to melt the grated cheese you will crown it with.
Source: Michael O'Rourke