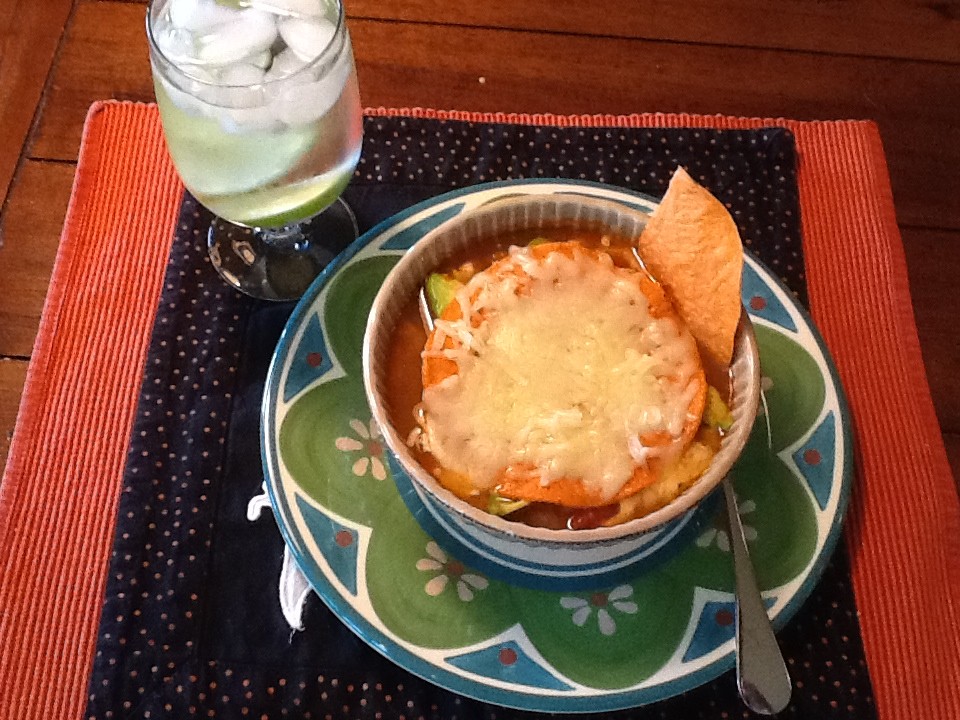 My daughter-in-law Michele grew up in Kansas City. But she went to college and graduate school in Texas and now lives in Austin. She is very proud of this soup. And I will say rightfully so.
You remember how French Onion soup seems so satisfying. Well, this is a serious rival. The broth and chicken provide substance. That thick top with cheese, avocados and tortilla chips is a delight itself. The combination of that rich top and the deeply flavored broth lets you relax and enjoy each spoonful.
I've had this dish for lunch and for the main meal. It's a delight either way. I do suspect that Michele may sometimes try it for breakfast.
Michele's Favorite Tortilla Soup
Yield: Serves 4-6
Ingredients:
3 chicken breasts, poached
2 tablespoons oil
1 large onion chopped
4 garlic cloves, mashed
1 8-ounce can green chiles, diced
2 8-ounc e cans stewed tomatoes
4 cups chicken broth
2 cups beef bouillon
2 teaspoons chili powder
2 teaspoons salt
½ teaspoon pepper
2 teaspoons Worcestershire sauce
2 avocados, peeled and sliced
1 cup of broken tortilla chips
1 cup Mexican mix shredded cheese or Monterrey Jack chees
Preparation:
Poach the chicken breasts, cool, and shred. Set aside.
Sauté the onion, garlic and green chilies in oil until soft. Add the tomatoes, chicken broth, and beef bouillon and shredded chicken. Mix in spices and simmer for 1 hour.
Place in bowls and cover with avocados, tortilla chips and cheese.
Place under broiler or microwave to melt the cheese if desired.
Source: Michele Barr O'Rourke