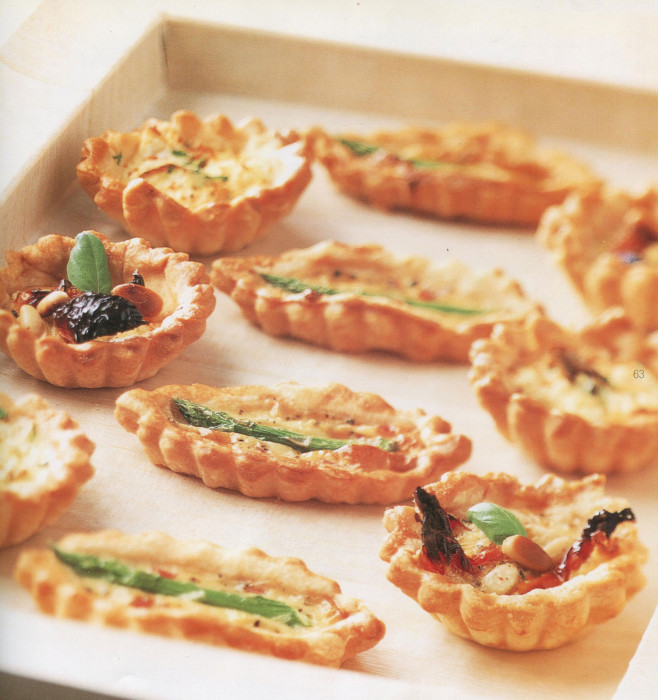 Here is another Super Bowl recipe from Fingerfood by Elsa Petersen-Schepelern. There is something about mini tarts that makes everyone beam with pleasure. The smile appears even before the first bite. It is the "private" nature of each tart. A "whole" tart, right there, right for you. And, in Elsa's scheme here, that plate of tarts will have multiple flavors so you can bounce from one private joy to the next.
This is a clever appetizer idea. Great for a Super Bowl party. You can pick one up, snack away, and not miss a single play. Or commercial.
---
Mini Tarts with Many Fillings
Yield: about 36 tarts
Ingredients:
36 frozen mini tarts from your supermarket
For the filling:
1 egg
1 egg yolk
1 cup heavy cream
For the asparagus and prosciutto filling:
2 tablespoons corn oil
6 slices prosciutto, sliced crosswise
1 onion, finely chopped
2-3 ounces asparagus tips
½ cup freshly grated Parmesan cheese
For the leek, feta, and black olive filling:
1 tablespoon butter or corn oil
7 ounces baby leeks, finely sliced crosswise
½ cup feta cheese, crumbled
½ cup black olives, pitted and halved
For the blue cheese, pine nut and basil filling:
½ cup pine nuts
½ cup blue cheese, chopped
2-3 sprigs of basil
Freshly cracked black pepper
Preparation:
Prepare the tart shells. To make the basic filling, beat the egg, egg yolk, and cream together.
For the Asparagus and Prosciutto:
Heat the oil in a skillet, add the prosciutto and sauté until crisp. Remove and drain on crumpled paper j towels. Add the onion and stir-fry until softened and golden.
Meanwhile, steam or microwave the asparagus tips for 1-2 minutes until al dente. Chop into ¼ inch pieces.
Divide the onions, asparagus, prosciutto, and Parmesan between the tart shells, then pour in the basic filling] mixture. Cook in a preheated oven at 350°F for 10 minutes or until the custard is set and the tops are golden. Remove from the oven, set aside for 5 minutes to firm the custard, then serve warm.
For the Leek, Feta, and Black Olives:
Heat the butter or oil in a skillet, add the leeks and sauté gently until softened and translucent. Divide the leeks, feta, and olives between the tart shells, then pour in the egg mixture. Cook as for Asparagus and Prosciutto and serve warm
For the Blue Cheese, Pine Nuts, and Basil:
Heat a skillet, add the pine nuts and stir-fry until golden. Divide the cheese between the tart shells, add the egg mixture, top with pine nuts and bake as before. Serve warm, topped with basil sprigs and pepper.
---
Source: Fingerfood by Elsa Petersen-Schepelern [Ryland Peters & Small, 1999]