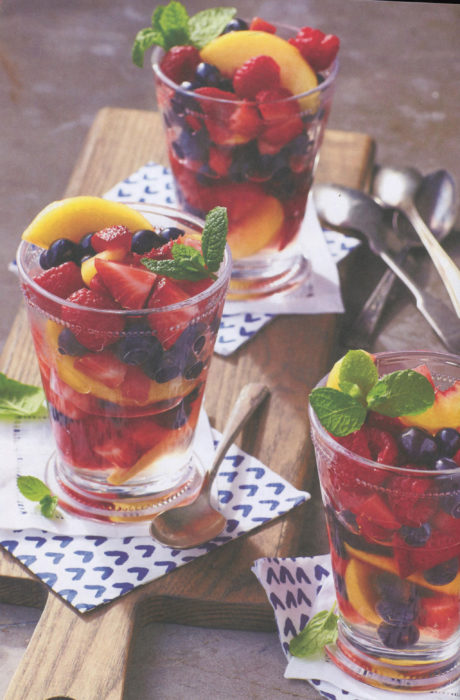 I know, something "Mint Julep" is surely something for spring. But this Mint Julep idea comes from a wonderful new cookbook, What Can I Bring?, a book that you will surely want to flip through every page discovering wonderful Southern-style comfort food.
Here a mint simple syrup and bourbon are used to dress a mixture of fresh fruit. The fruit ideas in the recipe are, I admit, ideal for mid to late summer, but you might still be able to score some peaches at your farmers market. Our grocery markets now seem to have an array of fresh fruits, often from continents away, stacked on their shelves and ready for a wonderful treat like this salad. You can go through the year with abandon, mixing and matching fruits based on today's fresh supply. Just remember the mint. And the bourbon!
---
Mint Julep Fruit Salad
Yield: serves 10
Ingredients:
1 ½ cups packed fresh mint leaves
1 cup sugar
1 cup water
3 tablespoons bourbon
4 cups chopped seedless watermelon (from 1 watermelon)
2 cups chopped fresh strawberries (about 12 ounces)
2 cups sliced peeled fresh peaches (about 2 medium peaches)
1 cup fresh blueberries (about 6 ounces)
1 cup fresh raspberries (about 4 ounces)
Garnish: fresh mint
Preparation:
Bring the mint, sugar, and water to a boil in a saucepan over medium-high, stirring until the sugar has dissolved. Boil 2 minutes. Remove from the heat, and cool 20 minutes. Pour through a fine wire-mesh strainer into a bowl, pressing the solids to release the liquid. Discard the solids.
Stir together the bourbon and ½ cup of the mint syrup in a small bowl. Store the remaining syrup in an airtight container in refrigerator up to 2 weeks.
Toss together the watermelon, strawberries, peaches, blueberries, and raspberries in a large bowl until combined. Pour the bourbon mixture over fruit. Let stand 30 minutes before serving.
Garnish, if desired.
---
Source: What Can I Bring by Elizabeth Heiskell [Oxmoor House, 2017]