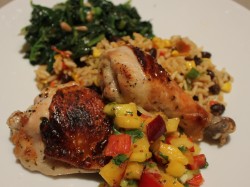 "Will it taste like chicken? Brian asked.
"It is chicken. Taste it," I suggested.
"You know," he began.
"Taste it now," I insisted.
"Oh," he said after swallowing. "Can I have more?"
"Over there," I pointed.
"Would you?" he attempted to beg.
"Over there," I pointed with a knife.
The man understood.
And he actually loved the chicken. Yes, the underlying flavor is chicken but this one is oh so different. The lime juice gives tartness, the rum spice, and the mint a breath of sweetness. Cook this chicken until the skin really begins to crisp. That caramelized flavor will blend with the others to give you heat, spice, and delight.
I've had many clients this summer choose this menu item, so Brian and I have had it once or twice a week all summer long. We both still love it. You will crave it, too.
Serve this chicken with the Mango and Mustard Salsa from yesterday's blog to have an outstanding flavor combination.
Mojito Chicken
Yield: 6 servings
Ingredients:
¾ cup fresh lime juice
½ cup plus 2 tablespoons light rum
Sugar, to taste
1 tablespoon vegetable oil
½ cup finely chopped fresh mint
1 tablespoon coarse or kosher salt
6 chicken breast halves, or legs and thighs or a combination with skin and bones (about 5 pounds)
3 large limes, quartered lengthwise
Fresh mint sprigs
Preparation:
Whisk together the lime juice, ½ cup of the rum, mint syrup, oil, chopped mint, and salt in a small bowl or large measuring cup. Place the chicken in a resealable bag. Pour the marinade over the chicken and seal the bag. Turn the bag over several times to distribute the marinade. Chill for up to 4 hours, turning twice.
Place the lime quarters in a shallow bowl. Pour the remaining 2 tablespoons rum over, tossing to coat. Let stand at room temperature.
Prepare a medium-hot grill or preheat oven to 450 degrees. Remove the chicken from the marinade and grill or broil until cooked through, about 15 minutes per side. Transfer to a platter.
Grill the limes until soft and slightly charred, about 5 minutes. Garnish the platter with the mint sprigs. Squeeze the grilled limes over the chicken and serve.
Source: Cheryl and Bill Jamison, as appeared in "Best American Recipes 2005-2006