Wi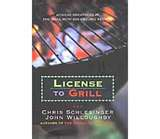 nter? What winter? We don't need no freezing winter?
It's warm enough to go outside and barbeque! Time to toss aside those snow shovels that loyally sat at the ready for months. Time to dig out the barbeque tongs, the chips, the gas, and get grilling.
License to Grill was published 15 years ago. Author Chris Schlesinger set a new standard for ideas, techniques, and quality.
This barbeque sauce is wonderful if you just follow the recipe. But it's really a template for you to experiment with. Change proportions, add and subtract ingredients. Here you have the base for a family of sauces to carry you deep into summer.
So, uncover the grill and get started. This is no store-bought sauce. This one is for you.
Molasses Rum Barbeque Sauce
Yield: about 2 cups
Ingredients:
2 tablespoons vegetable oil
1 large yellow onion, peeled and diced medium
2 tablespoons minced ginger
2 tablespoons minced garlic
1 cup of your choice
½ cup red wine vinegar
1 one cup catsup
½ cup molasses
¼ cup lightly packed brown sugar
1 tablespoon ground allspice
1 pinch of ground mace
Salt and freshly cracked black pepper to taste
Preparation:
In a small saucepan over medium heat, heat the oil until hot but not smoking. Add the onions and sauté, stirring occasionally, until transparent, 5 to 7 minutes. Add the ginger and garlic and sauté, stirring, for 1 minute. Add the rum, vinegar, catsup, molasses, sugar, allspice, and mace and bring just to a boil. Reduce the heat to low and simmer gently for 20 minutes, then remove from the heat, sea­son to taste, and set aside.
Source: License to Grill by Chris Schlesinger