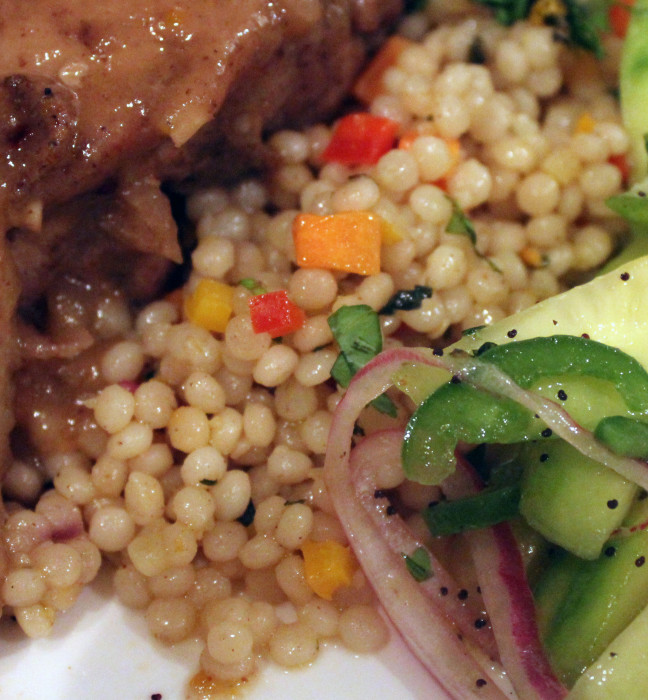 This is the third post in a lovely trio that forms a main meal with perfect sides:
Moroccan Spiced Chicken
Cucumber and Poppy Seed Salad
Moroccan Couscous
Couscous is one of those foods that can be quite terrible or terribly delightful. This version is surely delightful. A barrage of ingredients — veggies and spices — provides an envelope of flavors that enrich this dish.
Oh, actually the secret ingredient here is the chicken stock. At Cooking by the Book, we make all our own stock. Each Friday, the leftover veggies and protein pieces end up in several very large pots. A week of culinary team building events at Cooking by the Book means 100+ clients have chopped and cooked in our kitchen. We always have leftovers in abundance. On Fridays, our Tribeca loft is aromatic for hours. We are on the third floor, but as soon as you enter the elevator on the first floor, you know something special is going on.
Our homemade stock truly contributes to this dish. If you can, do make your own stock. Once you try this route, you will understand the power of "homemade." And homemade excellence will dominate grocery store convenience.
Moroccan Couscous
Yield: serves 5-6
Ingredients:
1 cup chopped onions plus 2 scallions for garnish
2 red bell peppers cut into ¼" dice (optional additional 1 red pepper roasted)
4 carrots, diced (¼-inch)
2 medium zucchini, diced (¼-inch)
2 tablespoons extra virgin olive oil
3 cups homemade chicken or vegetable stock or canned broth enough to cover couscous and vegetable mixture
2 tablespoons unsalted butter
¼ teaspoon ground cumin
¼ teaspoon ground cinnamon (optional)
½ teaspoon turmeric
1 ¼ cups couscous (10 ounces)
Kosher Salt and freshly ground pepper to taste
Preparation:
Preheat the oven to 375°F.
Place the onions, peppers, carrots, and zucchini on a baking sheet and toss with the olive oil, 2 teaspoons salt, and 1 teaspoon pepper. Roast for 25-30 minutes, until all the vegetables are tender, turning once with a spatula.
Meanwhile, in a small saucepan, bring the stock to a boil and turn off the heat. Add the butter, 1 teaspoon salt (depending on saltiness of the stock), ½ teaspoon pepper, cumin, turmeric, and cinnamon and allow to steep for at least 15 minutes.
Bring the stock just back to a boil. Place the couscous and cooked vegetables in a large bowl and pour the hot stock over them. Cover tightly with plastic wrap and allow to stand at room temperature for 15 minutes. Add the scallions, toss the couscous and vegetables with a fork, and serve warm or at room temperature.
Sources: Created by the Cooking by the Book Staff
Photo Information Canon T2i, EFS 60 mm Macro Lens, F/4.5 for 1/25th second at ISO-3200