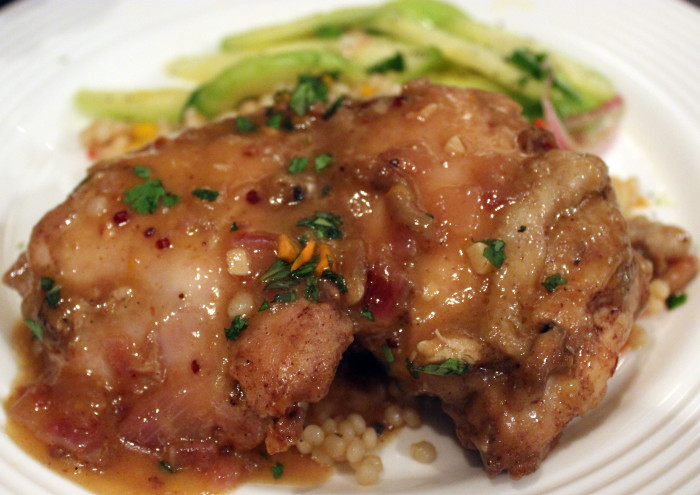 Chicken tends to taste, well, like chicken. Actually, there are chicken options that I hope you can explore. If you can get a real, honest, free range chicken that was carefully managed and cultivated, then you are in for a flavor treat. You can find those chickens in Paris. Everywhere in Paris. Or sometimes at some upstate farmers markets in New York state.
The "typical" grocery store chicken will taste just as familiar as the last one. It's okay. It's not exceptional.
It's time to think of chicken as a platform for flavor, something with an underlying basic taste that needs boosting for a satisfying meal. Where else to turn for inspiration but North Africa in a recipe crafted in an historic restaurant in Rhinebeck, New York?
The sauce that you see in the picture does cloak the chicken but it is not gooey. Nor overpoweringly spicy. True, there is the underlying fragrance from the garam masala et all, now amplified by the sweetness of the jelly and orange zest.
Just barely showing the chicken above, you will see accompaniments of couscous and cucumbers. This combo provides flavor and texture contrasts to the chicken that you will relish. Recipes for both these additions will appear in the coming days!
The chicken flavor? Well, it's chicken. But, really good chicken.
Moroccan Spiced Chicken
Yield: serves 4
Ingredients:
2 ¼ teaspoons coarse kosher salt
1 ½ teaspoons garam masala
1 ½ teaspoons sugar
¾ teaspoon ground ginger
½ teaspoon ground cardamom
¼ teaspoon freshly ground black pepper
8 bone-in, skin-on chicken thighs (3 pounds)
½ cup tablespoons olive oil
¼ cup all-purpose flour
3 garlic cloves, thinly sliced
¼ cup finely chopped shallots or red onion
1 cup chicken broth
¼ cup red currant jelly
4 tablespoons orange juice
½ teaspoon crushed red pepper flakes
Zest of 1 orange – removed in wide strips
Preparation:
Preheat oven to 350° F.
In a large bowl, combine the salt, garam masala, sugar, ginger, cardamom, and pepper. Use 1 to 3 tablespoons of olive oil to form a runny paste. Add the chicken and rub the spice mixture onto the skin and under it as well. Dredge the chicken in the flour, shaking off any excess.
In a large ovenproof skillet, heat the remaining oil over medium heat. Add the dredged chicken to the skillet and cook for 2-3 minutes per side, or until browned. Remove from skillet and transfer to a plate covered with foil.
Add the garlic and shallots to the pan and cook for 2 minutes, stirring frequently. Add the broth, jelly, orange juice, red pepper flakes, and orange zest and bring to a boil. Return to the chicken to the pan, cover, and place in the oven. Bake for 30 to 35 minutes, or until the chicken is cooked to 165° F.
Sources: The 1802 Beekman Heirloom Vegetable Cookbook
Photo Information Canon T2i, EFS 60 mm Macro Lens, F/4.5 for 1/25th second at ISO-3200