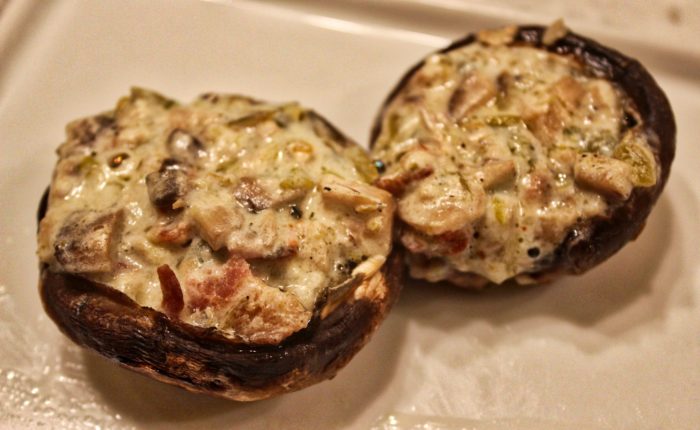 Rellenos without cheese? Without a relleno? Yes and yes and all is fine.
There's a delightful pair of books, Green Chile Bible and Red Chile Bible, that Suzi and I got long ago in Santa Fe. We pop in and out of them as our chile addiction leads us onward towards higher meaning. And higher heat.
This recipe is from the Green one. It's very simple and makes a substantial appetizer or side dish. Last night I ate four of these and some poblano mashed potatoes with poblano gravy. Had a class of cava on the side. A memorable meal.
The poblano mashed potatoes and gravy will appear next week. Right now, you should focus on this lovely appetizer/side/main.
I actually added a couple of crumbled strips of bacon to this mix. You could introduce diced ham. You can wait until the cooking is almost done and sprinkle on pepper jack cheese. This recipe absolutely invites you to apply your imagination.
And empty out your refrigerator.
Mushroom Rellenos
Yield: 25 which serves 6 for appetizers or a side
Ingredients:
25 medium mushrooms, rinsed
4 ounces of diced green chiles [1 or 2 those small can depending on your heat tolerance]
6 tablespoons sour cream or sour half-and-half
¼ teaspoon garlic salt
¼ teaspoon salt
¼ teaspoon freshly ground black pepper
5 tablespoons softened butter
5 tablespoons wine or sherry [or cava!]
2 strips of crisply cooked bacon, crumbled
Preparation:
Preheat oven to 325 degrees.
Remove the mushroom stems and reserve. Chop the stems and the green chiles into small pieces.
Add the sour cream, garlic salt, salt, pepper, 2 tablespoons wine, and 3 tablespoons butter. Mix thoroughly into a smooth paste.
Stuff the mixture into the mushroom caps and mound.
Pour the remaining wine into a 12 X 9-inch baking dish and distribute the remaining butter. Add the stuffed mushrooms to the pan, cover, and hake for 25 minutes.
Source: Green Chile Bible [Albuquerque Tribune, 1993]
Photo Information: Canon T2i, EFS 60mm Macro Lens, F/5 for 1/60th second at ISO‑400