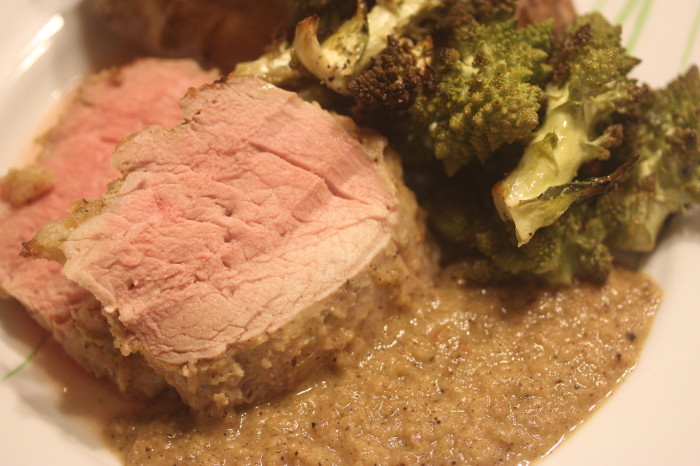 Saturday at the farmers market in Kingston, New York the air was saturated. There was midday warmth, perhaps the last of the season. You could smell the leaves in trees surrounding the church nearby and sheltering the 300-year-old tombstones.
And the apples. A half dozen vendors with perhaps two dozen types of apples. Hornets nestled on top of the apple slices offered for a taste. I brushed a hornet away, making sure he really did fly away, and then savored the juices of a Fuji.
"Something with apples?" Suzen asked me.
I nodded yes and then pointed to a jug of apple cider. "Apples and cider, too," I answered.
"Come on," she was headed to the meat market up the street. "It's time for pork."
This recipe comes from a wonderful new book called Pickles, Pigs and Whiskey where author John Currence presents recipes from his three favorite food groups. I'll write more about this book in the days to come. But, as an introduction, this pork loin is fabulous moist and sparkles with its mustard crust and sauce.
Just to be a bit different, Suzen made the sauce but then added a diced apple that had been sautéed in butter. Apple slices and the original sauce went into the Vitamix for a modest spin. The original sauce was excellent. Suzen's addition was divine.
To serve this as a main dish, you can accompany with a baked potato and cauliflower sautéed in a splash of olive oil. It's a fall feast.
Pork and apples are a natural marriage. Ask any resident of Normandy. Or you could speak with John, a native of New Orleans and now a cooking master in Mississippi.
Mustard-Crusted Pork Tenderloin with Apple Cider Reduction
Yield: serves 4
Ingredients:
2 pork tenderloins, about 1 pound each
Salt and freshly ground black pepper
¾ cup Dijon mustard
3 tablespoons honey
2 tablespoons plus 2 teaspoons chopped fresh rosemary
¼ cup grated shallots
2 teaspoons minced garlic
4 cups panko bread crumbs
 5 tablespoons dark chicken stock
¼ cup fresh apple cider
1 ½ teaspoons sugar
3 tablespoons cold unsalted butter
Preparation:
Sprinkle each of the pork tenderloins with about 2 teaspoons each of salt and black pepper. Place, covered, in the refrigerator until ready to cook.
In a medium bowl, blend together both mustards, the honey, 2 tablespoons of the fresh rosemary, 2 tablespoons of the shallots, and the garlic until well combined. Rub the mustard mixture evenly all over the tenderloins, and then dredge them lightly in the bread crumbs, knocking off as much excess as you can.
In a large ovenproof sauté pan, briefly heat 3 tablespoons of the clarified butter over medium heat, about 45 seconds. Gently place the tenderloins in the pan and brown them on all sides. Place the pan in the oven for 7 to 8 minutes, until the tenderloins reach an internal temperature of about 135°F.  Remove the tenderloins from the pan and set aside on a cutting board to rest for 3 to 5 minutes. This will keep them from releasing their juices when they are sliced for serving.
Return the sauté pan to the stovetop over medium heat. Add the remaining 2 tablespoons clarified butter and the remaining 2 tablespoons shallots and sauté until the shallots are transparent. Add the stock, cider, sugar, and retaining 2 teaspoons rosemary and bring to a simmer. Reduce the liquid by just over half. Turn off the heat and let cool for about 10 seconds. Then vigorously whisk in the cold cubed butter.
Slice the tender crosswise in ½-inch thick medallions, drizzle each portion with the cider reduction, and serve immediately.
Source: Pickles, Pigs and Whisky by John Currence