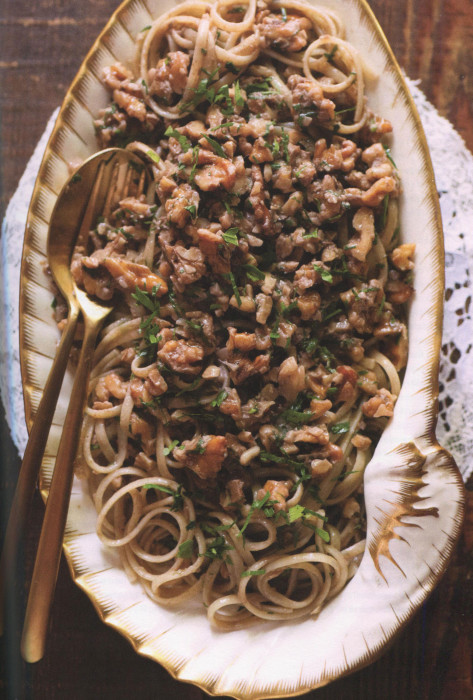 Last August I did a cookbook review for The Four Seasons of Pasta, a collection of recipes offering pasta on an elevated level. Italy is a land of feasts and holiday. Christmas Eve is traditionally a meatless meal, but "meatless" can be quite exceptional.
Here, the "meat" feeling comes from walnuts, lots of walnuts. And there is a tang supplied by anchovies. It's quite a surprising combination, beloved in Italy, and perhaps one that will become one of your family favorites, too.
This is a dish from Naples, hence those anchovies!
---
Neapolitan Christmas Eve Spaghetti with Walnuts

Yield: serves 4-6

Ingredients:

1 ¼ cups walnuts, the fresher the better
Sea salt
About 1 pound spaghetti, linguine, or similar-shaped pasta
½ cup plus 1 tablespoon extra-virgin olive oil
6 garlic cloves, finely chopped
10 anchovy fillets, coarsely chopped
½ cup unflavored bread crumbs
1 cup minced flat-leaf parsley
Preparation:

Set the oven on 300°F.
Spread the walnuts out on a cookie sheet and toast in the oven for several minutes, or until they begin to release their fragrance. It's okay if they turn a little golden, but don't let them get deep brown. Remove from the oven, and when the nuts are cool, chop them coarsely and set aside.
When you're ready to cook, bring a large pot of water to a rolling boil. Add salt and pasta and start to cook, monitoring your time based on the pasta type and, of course, testing along the way.
While the water is heating and the pasta is cooking, finish the sauce: Over low heat, combine ½ cup of the oil and the garlic in a saucepan large enough to hold all the cooked pasta. Cook gently, stirring occasionally, until the garlic starts to soften. Add the anchovies and continue cooking, using a fork to mash the anchovies into the oil. Stir in the chopped walnuts and cook for about 1 minute.
Meanwhile, toast the bread crumbs in the remaining 1 tablespoon oil in a small saucepan, tossing and stirring to brown and crisp them.
When the pasta is almost al dente, remove about ¾ cup pasta water and add to the walnut-anchovy sauce. Let it simmer while you drain the pasta, then add the pasta directly to the walnut sauce, turning to coat it well with the sauce as it finishes its last minute or so of cooking. Taste and add salt if necessary (there may be sufficient salt from the anchovies).
Turn onto a warm serving platter, garnish with the parsley and toasted bread crumbs, and serve immediately.


---
Source: The Four Season of Pasta by Nancy Harmon Jenkins and Sara Jenkins [Penguin, 2015]