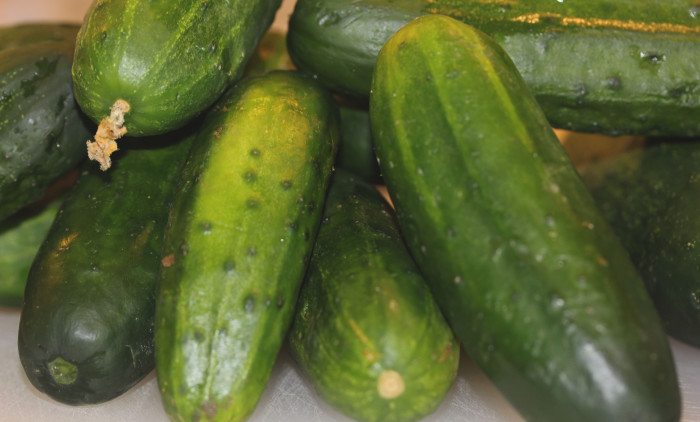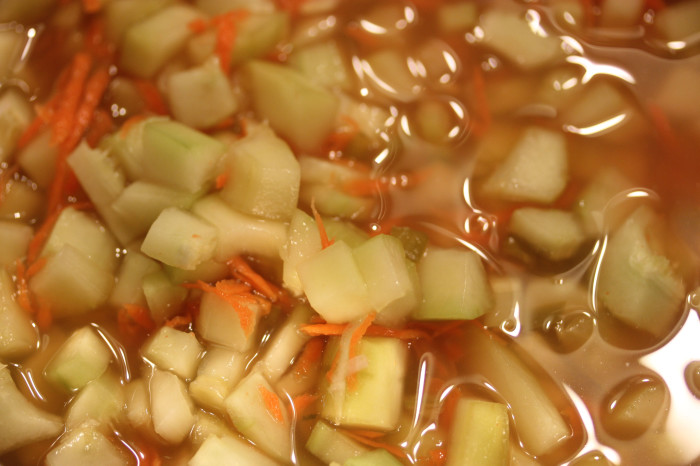 Cucumbers. Absolutely marvelous food. Or eye patches.
I often use cucumbers in dips where they are combined with yogurt or sour cream for a mellow treat. But, there are options. This recipe gives you fire on day one and a tumult of heat if you let it sit in the refrigerator.
I would normally say here to play with ingredients, but I suggest you follow this recipe meticulously. Get a sense of the heat and, if you have the courage, you can ramp it all up next time.
The flavors here layer. They do not clash. But like a spice symphony, they do come together for a grand finale.
[Oh, if you read the recipe, and compare the pictures, then you will see that, yes, I did peel the cucumbers.]
Nippy Cucumber Relish
Yield: 4 cups
Ingredients:
4 large Kirby [pickling] cucumbers, each about 5 inches long [about 1 ¼ pounds]
1 medium carrot
½ cup white wine
2 teaspoons minced fresh red jalapeno, or other hot red pepper
2 teaspoons minced fresh ginger
1 garlic clove, minced
1 tablespoon sugar
½ teaspoon salt
Preparation:
Scrub the cucumbers and cut ½ inch off each end. Cut the cucumbers in large dice and place the diced pieces in a bowl.
Trim and peel the carrot. Grate it on the largest holes of your metal grater. Stir the carrots into the cucumbers.
Combine the remaining ingredients in a small saucepan and bring to a simmer. Simmer for 2 minutes and let the mixture cook, stirring occasionally. Taste and add more salt if necessary.
Serve right away at room temperature or refrigerate until chilled. Keep chilled until almost ready to serve. The relish will last for 5 days in the refrigerator. However, do recall this: every day it sits there marinating, the relish gets hotter. Day 1 is fine. Day 5 requires a cold beer.
Source: Chutneys & Relishes by Lorraine Bodger