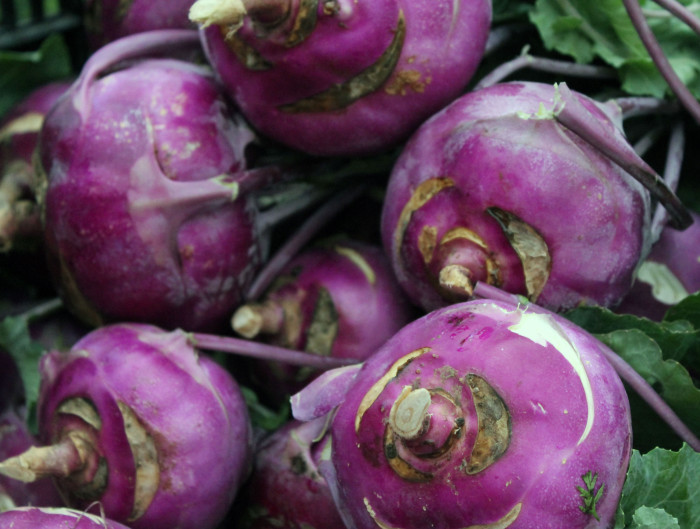 It's mid-April. There is the chance that there will be no more snow. Time for shorts. Time for dips.
Oh, Suzen has just informed me that the picture above is of kolrabi, not onions. It's a pretty picture. Pretend they are red onions. Do not proceed with kolrabi. My defense? I grew up with canned vegetables and never ate anything from a farmers market.
There are two ways to make onion dip. Adequate dip comes quickly, literally in a couple of minutes. Just open up that packet of onion soup mix, add in the sour cream, stir, and you are ready to dip and sip and enjoy. Truthfully, more onion soup mix has to be bought to make dip than soup. This dip is adequate, perhaps even good. It is not great.
That's the second way to make dip, a great onion dip. It takes, end to end, almost an hour. Every minute of your investment will prove to be perfectly rewarding. This dip, courtesy of cookbook author maven Diane Morgan, is simply honed from every perspective: the ingredients, the relative proportions, the steps, the cooking times.
You'll appreciate the difference at first taste. It may be onion dip, but it's just so much more, not "just" onion dip. There is complexity and layering here that may be hard to explain but can easily be enjoyed.
In my kitchen I do have packets of soup mix. And I have real, fresh onions. There is no question about which path I will follow.
You can, by the way, have that first beverage of evening during the hour it takes to prepare this dip. Time flies and you should enjoy the changing rainbow of aromas that emerge as the onion complex shifts from one stage to the next.
Not Your Mother's Onion Dip
Yield: 2 cups
Ingredients:
3 tablespoons pure olive oil
3 large sweet onions (about 3 pounds), such as Walla Walla, Vidalia, or Maui, cut into ½ inch dice
2 large shallots , finely diced
1 ½ tablespoons sugar
⅓ c u p balsamic vinegar
⅓ cup sour cream
3 tablespoons mayonnaise
¾ teaspoon kosher salt
½ teaspoon freshly ground black pepper
Preparation:
In a 12-inch sauté pan over medium-low heat, warm the oil and swirl to coat the pan. Add the onions and cook, covered, stirring frequently, until the onions soften and turn translucent, about 10 minutes. Uncover the pan and continue sautéing, adjusting the heat to low if the onions begin to brown, until the onions are completely softened and begin to caramelize, about 15 minutes longer.
Add the shallots and sauté until softened, about 5 minutes longer. Add the sugar and continue to cook, stirring constantly, until the onions turn a beautiful caramel color, 5 to 7 minutes longer. Add the balsamic vinegar and stir to combine. When the vinegar has evaporated, remove the pan from the heat. Transfer the onion mixture to a bowl and cool about 15 minutes.
Add the sour cream, mayonnaise, salt, and pepper to the onion mixture. Stir until completely combined. Taste and adjust the seasonings. Transfer to a serving bowl and serve slightly warm or at room temperature.
This dip may be prepared up to 3 days in advance. Cover and refrigerate. Remove from the refrigerator 1 hour before serving. Serve at room temperature, or rewarm in a microwave or in a skillet over low heat just before serving.
Source: Delicious Dips by Diane Morgan [2004 Chronicle]
Photo Information [top picture]: Canon T2i, EFS 60 mm Macro Lens, F/5.0 for 1/1000th second at ISO-3200