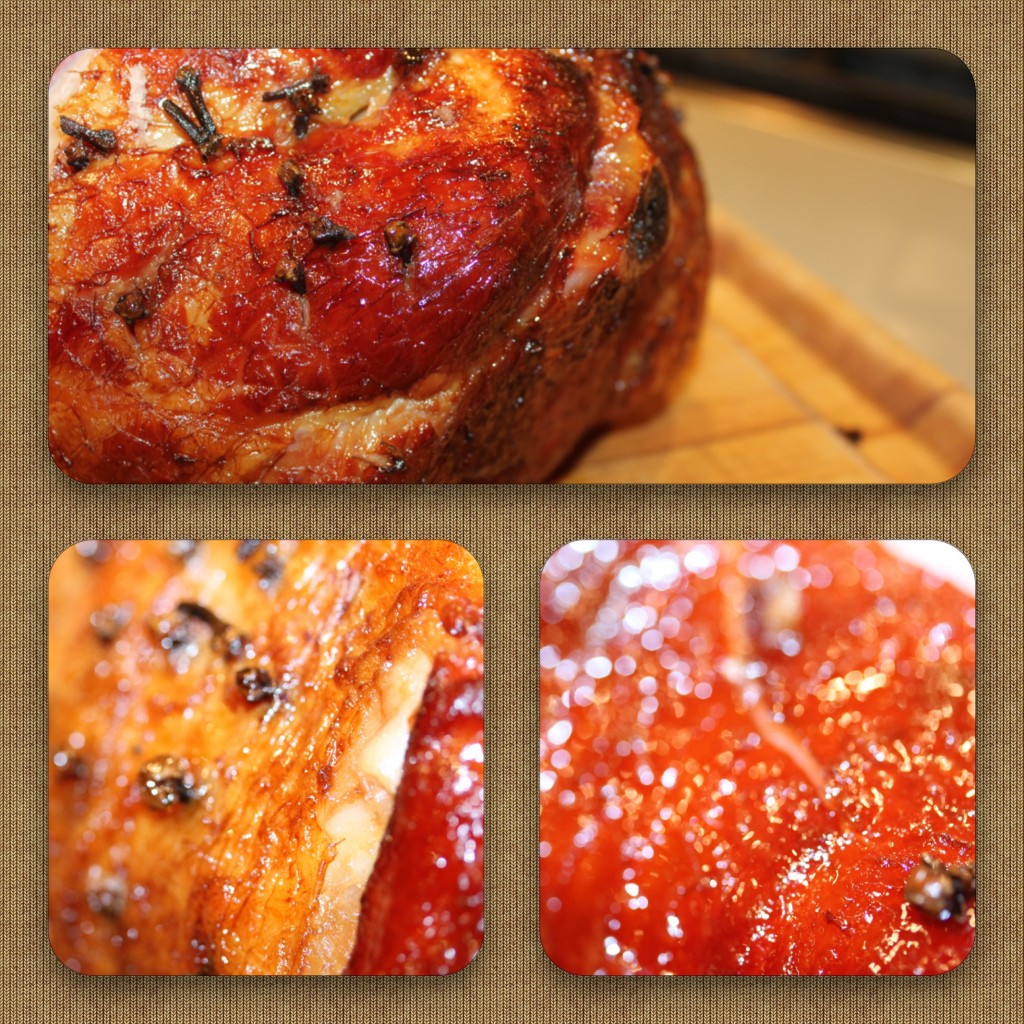 Do you want to have the perfect ham? The best on ever? The destined for your best family meal or party? Read on.
Ann Nurse is beloved figure in the New York food community. As to Suzen, Ann has become a second mother. Ann's history of teaching, helping, giving and charity activity are boundless.
She is far more than a good cook. She's is an exceptional one. Her knowledge of Italian and Italian-American cuisines is encyclopedic.
Ah, but the dish we love the most from her is this ham. Gooey, sweet, rich, and unbelievable. The juice that collects at the bottom, from the pineapple juice and the corn syrup and the ham itself, well, that juice is something you will savor and remember always. I suppose it's not something you should eat every day, but for holidays, there is no better dish.
We make this once or twice a year, always for a holiday party. And every time, we thank Ann
Ann Nurse's Ham
Yield: serves 10+
Ingredients:
1 12- to 20-pound smoked ham
100+ whole cloves
4 cups pineapple juice
1+ pounds dark brown sugar
1 16-ounce bottle corn syrup, dark is better, light will work
Preparation:
Preheat the oven to 325°F.
Place the ham on a working surface, such as a plastic cutting board. Score the entire surface of the ham, fat side and elsewhere, in a diamond pattern. Stick the whole cloves in the center of each scored section where two lines cross. You want a tight diamond pattern and lots and lots of clove. I'm not joking here. We put well over 100 cloves into the ham.
Put the ham in roasting pan. Pour the pineapple juice over the ham and bake in the preheated oven for 1 ½ hours.
Remove the ham from the oven and carefully pat on the brown sugar to completely cover the top of the ham. You want a real cover here, not a dusting, so you might need more than a pound of dark brown sugar. Drizzle the corn syrup gently over the ham, being careful not to disturb the brown sugar layer.
Return the ham to the oven and continue to bake for another 2 ½ hours for a 12 pound ham or up to 4 hours for a 20 pound ham. THIS IS IMPORTANT. During this second bake, every 15 minutes baste the ham with the pan juice. Every square inch of the ham. Every 15 minutes. Please do not disappoint Ann or yourselves.
Remove the pan from the oven and allow to rest for 30 minutes. BUT, keep basting every 5-10 minutes. Serve hot or at room temperature.
Enjoy the goop at the bottom of the pan.
Serving ideas? A good salad and warm biscuits and bottle of deep red.
Source: Anna Nurse and The Shared Table by Don Pintabona