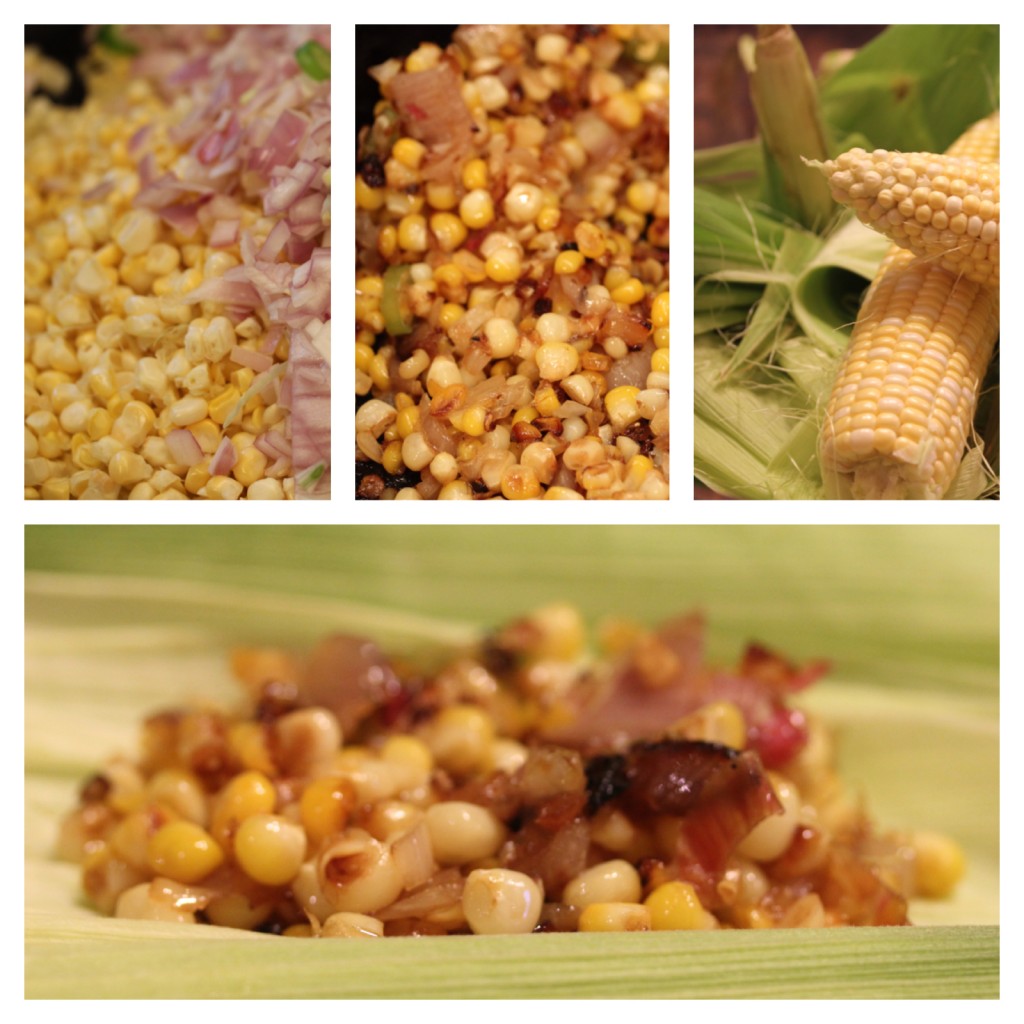 I posted this a couple of years ago, but it's worth a repeat. Corn is appearing everywhere now: fresh, lovely, and ready for all kinds of uses. This recipe is from a brilliant little book called I Love Corn by Lisa Skye. If you enjoy corn, you'll find this book a treat. If you not yet a corn fan, then take a look. Try this recipe or one of the others and you'll soon understand why people gather around that bin of freshly picked corn and examine each ear like they were about to adopt and not eat.
Lisa has gathered sixty recipes from great chefs and cookbook authors from around the country to give us chapters on:
Breakfast [Sweet Corn Waffles, Jalapeno Corn Muffins, …]
Soups [Sweet Corn Soup, Fresh Corn Gazpacho, …]
Starters [Corn Ceviche, Roasted Corn Wontons, …]
Mains [Venison with Corn Cocoa and Chipotle Relish, Corn-Poached Halibut, …]
Sides [Corn Pudding with Bacon and Leeks, Warm Corn Soufflés, …]
Sweets [Cornmeal Cake with Honey and Bananas, Strawberry Corn Pone, …]
From the time you rise until you take that last snack, you can enjoy corn. I'm a big fan of corn side dishes which can provide so much contrast and interest to a meal. And, when I see a recipe that says "caramelized" then I perk up.
I made this caramelized corn with a couple of changes. I did not have shallots, so red onions were a fine substitute. And since "caramelized" implies sweetness, I wanted some heat. So I tossed in a diced poblano with the seeds.
To serve this dish, I used the corn husks arranged in a layer on the plate. It is beautiful to see, to photograph, and to devour.
You can obviously scale this recipe up and I suggest you do. Because the next day you can:
Perk it up with lime juice
Convert the leftovers into a salsa using some tomato products
Sparkle up your scrambled eggs for breakfast
In short, great recipe from a fine book.
Caramelized Corn with Shallots
Yield: 4 servings
Ingredients:
1 tablespoon unsalted butter
4 ears fresh corn, kernels removed, about 3 cups
4 large shallots cut into ½-inch slices
Pinch of granulated sugar
Kosher salt and freshly ground black pepper
2 tablespoons fresh thyme leaves plus 1 large sprig for garnish
Preparation:
In a large skillet over medium heat, melt the butter. Add the corn, shallots, sugar, and salt and pepper. Cook, stirring occasionally to prevent burning, until the corn is caramelized, about 5 minutes.
Stir in the thyme and cook for 5 minutes more. Season with salt and pepper to taste. To serve, garnish with the sprig of thyme