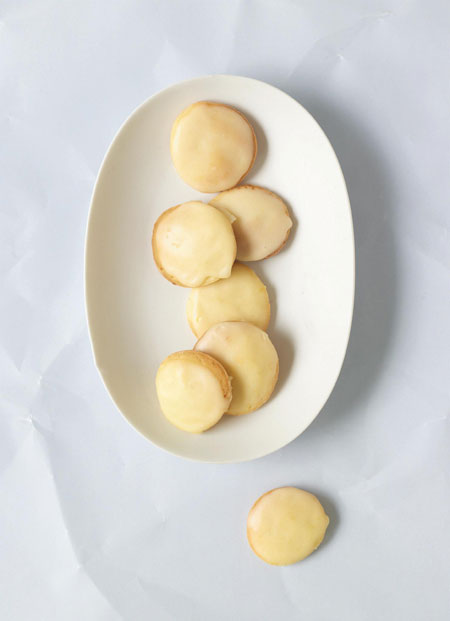 I sat down in the chair. No, I slumped. The chair was leather, warm, cushy.
"You look upset," my therapist said.
"No," I said. "Not upset. Just confused. Well, maybe upset." I raised my hands in exasperation. "I don't know."
"What's bothering you?"
"My wife." I said it low and slow.
"Suzen?" He was surprised.
"I don't get respect. She does not support me emotionally. It's embarrassing." I stopped. Now I was angry, but the therapist was puzzled. I'd never raised Suzen-issues before.
"Can you be specific?"
"Yes, I told her my New Year's Resolution and she laughed at me. Told me 'No way.'"
"And the resolution was?"
"I told her I could go without chocolate for a month." I shifted in my chair. "I said it and I meant it and I can do it. Look," I continued, "I even made her a plate of the most wonderful orange cookies, just to show how it would start out. She just took a bite and laughed. Cruelly."
"How did that make you feel?" my therapist asked.
"Oh, Lord, how would you feel if you said something sincerely to your wife and she just dissed you?"
"Here," he pushed a box of Kleenex towards me.
"I don't need that," I said. "I'm not going to cry."
"No, I know that," he said. "It's just, well, you need to wipe your lip. There's some chocolate frosting there, to the left. With the tiny golden sprinkles, I'll guess you have found the new cupcake place around the corner." He paused. "Why don't we discuss your issues regarding will power. It's come up before, hasn't it?"
The chair was not deep enough. It was a very long 45 minutes.
Now, the orange cookies are really good. Really good. And they are from a brilliantly conceived new book: One Sweet Cookie by Tracey Zabar. A dualist with careers in baking and jewelry design, Tracey has compiled cookie gems from the best chefs in New York City. Here you will find favorites from Mario Batali, Todd English, and a battalion of magically talented chefs.
This orange cookie comes from the Italian wonder Lidia Bastianich. The cookies have a citrus bite sheathed in a sweet orange glaze. Adorable. Potentially addicting.
Most of the cookies in One Sweet Cookie do not contain chocolate:
Pineapple Tea Cakes from Fancois Payard
Peanut Butter Cookies from Landmarc
Punitons [shortbreads] from Dorie Greenspan
Sugar-Topped Molasses Spice Cookies from Laurent Tourondel
Sugar's Hungarian Crescents from Angel Pinkerton of Eleven Madison Park
Fig Squares from Karen DeMaso of Locande Verde
If you have made any New Year's resolutions, and if your wife is supportive, then here is the tool to share with her. I think you are most fortunate.
Orange Cookies
Yield: about 80 cookies
Cookie Ingredients:
3 cups all-purpose flour
2 teaspoons baking powder
¼ teaspoon salt
6 ounces (1 ½ sticks) unsalted butter, softened
½ cup plus 1 tablespoon granulated sugar
3 large eggs
1 teaspoon pure vanilla extract
2 tablespoons fresh orange juice
2 tablespoons fresh lemon juice
1 tablespoon grated orange zest
Glaze Ingredients:
2 ½ cups confectioners' sugar
¼ cup fresh orange juice, or as needed
Cookie Preparation:
Sift together the flour, baking powder, and salt into a large bowl, and set aside.
In the bowl of a stand mixer fitted with the paddle attachment, cream the butter and sugar on medium speed until light and fluffy, about 2 minutes. Add the eggs, one at a time, beating well between additions. Add the vanilla, orange juice, lemon juice, and orange zest. Beat to combine. With the mixer off, add the flour mixture and mix just until combined. Wrap the dough in plastic wrap and let it rest in the refrigerator for 1 hour.
Roll the dough into 4 logs, each about 1 ½ inches in diameter and 10 to 12 inches long. Chill or freeze the logs, uncovered, until firm enough to cut without losing their shape.
Preheat the oven to 350°F. Line three half-sheet pans with parchment paper.
Cut the logs into ½-inch rounds and place on the prepared pans. Bake for about 15 minutes, or until the cookies are golden. Cool completely on wire racks.
Glaze Preparation and Cookie Assembly:
Sift the confectioner's sugar into a bowl and whisk in the orange juice to make a smooth glaze.
Dip a cookie in the glaze, which should form a thin layer. If necessary, adjust the consistency of the glaze with more juice or confectioners' sugar. Repeat the dipping process , and then let glazed cookies set on wire racks.
Source [Recipe and Picture]: One Sweet Cookie by Tracey Zabar