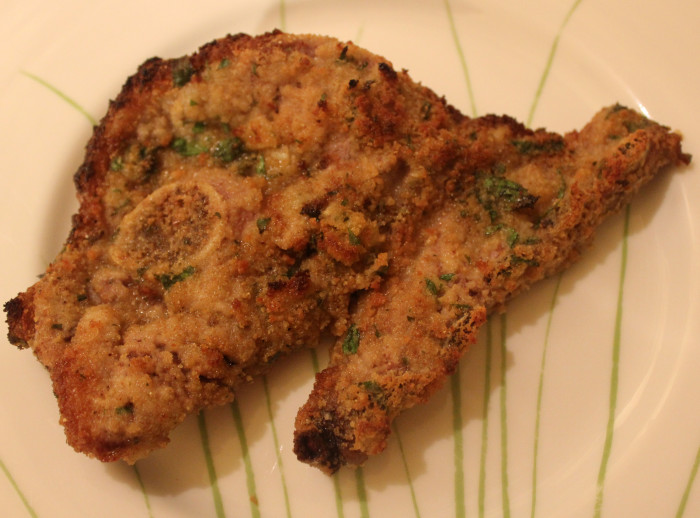 August is stumbling to an end. I say stumbling because it has not fended off fall at all. Some years, summer is strong into September. This year, fall was appearing in the first week of August. You may have some "tell" trees near you. We do. These are those trees whose leaves begin to change from green to gold and red long before any other of their tree neighbors.
This year, a lot of trees are telling us that fall is near. At night, in our Catskills house, the temperature drops and a warm dinner seems especially inviting. You may want something different and you may have had your summer fill of barbequed ribs, steaks, and burgers.
Time for another protein. And not another white meat. Many people shy from lamb, but you really want to give it consideration. Does that lamb flavor seem "too lamby?" Here's an excellent way to take a lamb chop, layer on multiple flavors, and create a main dish as complex and satisfactory as any you can imagine.
In short, you'll enjoy this lamb chop adorned with herbs and mustard.
In French cuisine, a persillade is a sauce/seasoning made of parsley chopped with other things: garlic, herbs, oil, and vinegar. I've always associated "persillade" with a mixture of bread crumbs and parsley toasted in butter until crispy. Then, I've coated boneless chicken breasts in mustard, dipped them in the persillade, and baked away. I've made that recipe a hundred times.
I never, never dreamt of using the persillade on other meats, like lamb chops. In this version, from Epicurious, you have the bread crumbs, the parsley, butter, and mustard. But now the preparation steps are totally shifted. I've adjusted the recipe from the Epicurious version to give you plenty of persillade for heavily coated chops.
The combination of lamb, bread crumbs, parsley, and mustard is bright, complex and an early fall delight.
---
Lamb Chops Persillade

Yield: serves 2

Ingredients:

1 ¼ cups breadcrumbs [Italian style with herbs is fine]
1 cup of parsley leaves, washed
4 garlic cloves, minced
6 tablespoons of butter, melted
2 teaspoons of dry mustard, more if you like
4 1 ¼ inch thick lamb rib chops
Preparation:

Preheat the oven to 500°F. Line a half sheet with aluminum foil and place a rack on top of the foil.
Place the breadcrumbs in a rectangular pan, say an 8-inch round or square cake pan. Finely dice the parsley and add to the pan along with the garlic. Using a fork, gently mix the ingredients in the pan until uniformly distributed.
In a medium-sized bowl, pour in the melted butter. Stir in the mustard.
Season the lamb chops with salt and pepper on both sides. Dip both sides of lamb chops into the butter-mustard mixture, then dip into the bread-parsley mixture. Use your hands to pat the persillade over the entire surface of the chop. On both sides.
Place the coated lamb chops on the rack. Roast in the preheated oven until the coating is golden brown and lamb is cooked to desired doneness, about 14 minutes for medium-rare. On each of 2 plates, arrange 2 lamb chops with ribs crossed and serve.
Source: Inspired by Epicurious

Photo Information: Canon T2i, EFS 60mm Macro Lens, F/4.5 for1/30th second at ISO‑2000