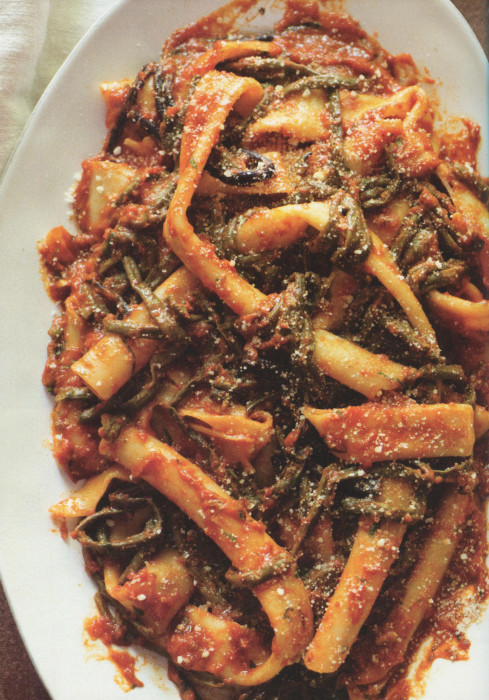 Yesterday I did a cookbook review for The Four Seasons of Pasta, a collection of recipes offering pasta on an elevated level. This is not your ordinary Spaghetti and Meatball collection, not at all. These recipes, as you might expect, are strongly seasonal, suggesting you visit a farmers market for the freshest possible ingredients. This particular recipe is from the summer collection, offering a pasta home for summer's long green beans and now ripening tomatoes.
The suggested "pasta candles" here can be purchased from artisanal pasta makes like Rustichella d'Abruzzo or Pastificio Faella. You'll find their products on the web or you can use a different, but equally wonderful, pasta: bucatini.
---
Pasta Candles with Long Green Beans and Tomatoes

Yield: serves 6

Ingredients:

2 tablespoons extra-virgin olive oil
1 garlic dove, chopped
1 small yellow onion, chopped
¾ pound very ripe fresh tomatoes, preferably plum tomatoes, peeled and chopped (or use one 14-ounce can whole tomatoes, preferably San Marzano, with their juice)
Salt and freshly ground black pepper
1 pound long green beans (asparagus beans)
1 pound candele or similar long pasta
Freshly grated Parmigiano-Reggiano or pecorino toscano cheese
Preparation:

Combine the oil with the garlic and onion in a skillet and set over low heat. Cook, stirring, just until the vegetables start to soften, but do not let them get brown. Add the tomatoes with salt and pepper to taste and continue cooking, stirring frequently, until the tomatoes have dissolved into a sauce, 15 to 20 minutes. If you wish, puree the sauce with an immersion blender to make it smoother, but it should be quite textured. (This may be done ahead of time, if you wish.)
While the sauce is cooking, bring a good 6 quarts of water to a rolling boil in a large pot. When the water boils, add a big spoonful of salt and the green beans and cook until done, 10 to 15 minutes. The beans should not be fully cooked as they will continue to cook in the sauce. Use a slotted spoon to remove them from the water and transfer directly to the sauce. Stir into the sauce, which should be just simmering over low heat.
Bring the bean water back to a vigorous boil and add the pasta, stirring well to immerse it. Cook, following the directions on page 33, checking the package recommendations for time. Candele should take about 9 minutes, but start testing after 6 or 7 minutes.
Have ready a warm serving bowl. When the pasta is al dente, drain and turn it into the bowl. Top with the green bean sauce and toss to combine before serving, passing grated cheese at the table.
---
Source: The Four Season of Pasta by Nancy Harmon Jenkins and Sara Jenkins [Penguin, 2015]