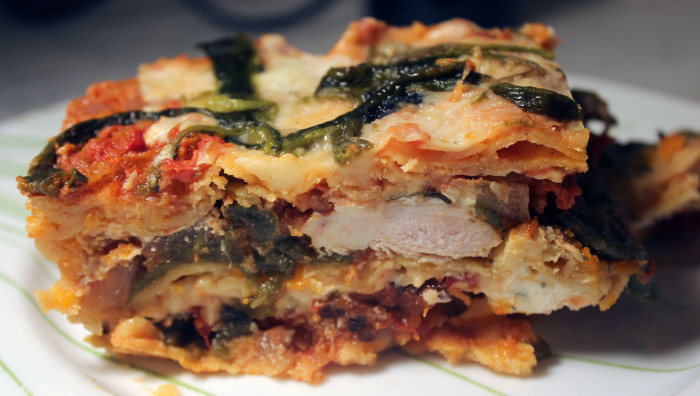 Do you need a dish for your leftover Thanksgiving turkey? Read on. Ignore the chicken part and just use that turkey meat, white or dark.
I recently reviewed a remarkable book, Enchiladas by Cappy Lawton and Chris Waters Dunn. This is the first dish Suzen and I prepared from the book and it is, in a word, wonderful. Make this once and you will become addicted: it is the perfect comfort food. Warm. Gooey. Rich. Your mouth will be assaulted by the barrage of flavor elements. This composed dish will bring a smile to your face as you employ a napkin to wipe away some of the cheese.
There is no graceful way to scoop this dish from the pan. My picture at the top is from the leftovers, after a day in the fridge to cool and settle. Microwave this for a couple of minutes and it is back to its oozing self.
If you follow the directions, this dish is complete on the spot. No need for salt, pepper, hot sauce or anything else. If you have children, and if you want to introduce them to something fun, then letting them make the layers here, grating cheese, and shredding chicken is a wonderful introduction to kitchen practice. And, when they taste the product of their labors, they will respond with glee. The transformation in the oven will strike them as at least a modest miracle.
This dish stores very well. Make this one night and for you have leftovers that will please for days and nights. I truly believe that, once you make this, it goes into your short list of dishes to make over and over and over. I can't wait to try more ideas from the remarkable Enchiladas.
---
Pastel Azteca

Yield: serves 6-8

Ingredients:

For the sauce:

2 pounds Roma tomatoes
½ medium white onion, peeled and roughly chopped
2 cloves garlic, peeled
2 tablespoons vegetable oil
Kosher salt to taste
For the layers:

3 skinless, boneless chicken breast halves, poached and shredded
6 poblano chiles, fire roasted, peeled, destemmed, deseeded, deveined, and cut into strips, divided with ⅓ reserved for garnish
1 ½ crema Mexicana [check the web for easily making your own version]
1 ½ firmly packed cups queso asadero, grated (or substitute Monterey Jack)
For the assembly:

12 corn tortillas
Vegetable oil as needed for softening tortillas
1 tablespoon butter or vegetable oil for greasing casserole
For the garnish:

Reserved poblano strips (rajas)
Chopped tomato
Preparation:

Start with the sauce.

Place whole tomatoes in a saucepan, add ¾ cup water, cover with a lid, and cook over medium-low heat until the tomatoes barely burst open. Set aside to cool slightly.
Transfer the tomatoes to a blender along with the onion and garlic. Blend until very smooth, adding the tomato cooking liquid as needed to achieve a thick sauce consistency.
Heat 2 tablespoons oil in a saucepan, add the tomato puree, and cook until it slightly darkens, 10-15 minutes. Season with salt to taste, cover, and set aside.
Assemble the pastel.

Preheat the oven to 350°F.
Mix the shredded chicken with two-thirds of the poblano strips (reserve one-third for the garnish).
Pour oil to a depth of ½ inch in a heavy skillet over medium-high heat. Heat to low frying temperature, about 300°F. Place each tortilla in the oil and fry for a few seconds, just long enough to soften. Drain on paper towels.
Butter or oil a shallow ovenproof casserole that will accommodate 4 tortillas in a single slightly overlapping layer (about 8 ½ inches x 12 inches). The casserole should be suitable for serving.
Spread a few tablespoons tomato sauce on the bottom of the casserole. Place 4 softened tortillas in a single layer on top of the tomato sauce, followed by half of the poblano/chicken mixture, a third of the remaining tomato sauce, ½ cup crema Mexicana, and ½ cup queso asadero.
Layer with 4 more tortillas, the remaining chicken/poblano mixture, a third of the tomato sauce, ½ cup crema Mexicana, and ½ cup queso asadero. Top with the last 4 tortillas and the remaining tomato sauce, crema Mexicana, and queso asadero. Decorate the top with the reserved poblano strips.
Bake in preheated oven until the cheese is melted and the pastel is heated through, 15-20 minutes.
Remove from the oven and garnish with the chopped tomato. Loosely cover with aluminum foil and let rest for a few minutes before serving.
---
Source: Enchiladas by Cappy Lawton and Chris Waters Dunn [Trinity University Press, 2015]

Photo Information [Top]: Canon T2i, EFS 60mm Macro Lens, F/4.5 for1/60th second at ISO‑500

Photo Information [Bottom]: Canon T2i, EFS 60mm Macro Lens, F/3.5 for1/30th second at ISO‑800