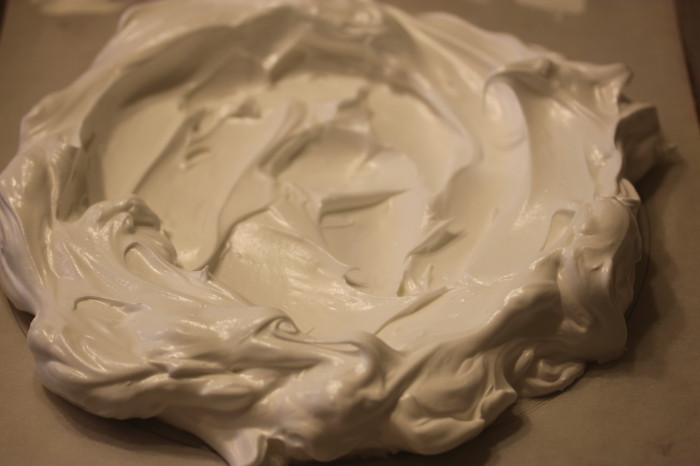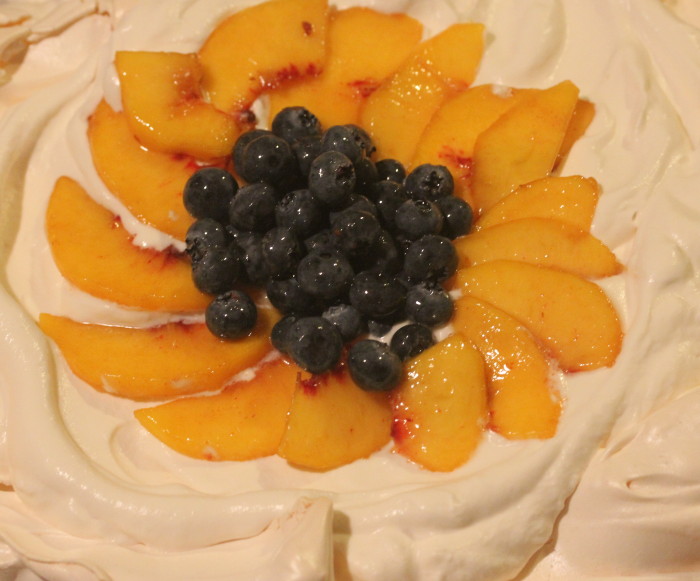 Anna Pavlova was a famed Russian ballerina who was loved, if not worshipped, around the world. In 1926, in Wellington, New Zealand, she was performing and a hotel chef was creating. The chef wanted to honor Anna with something light, something ethereal. He succeeded.
There are many, many pavlova recipes. Essentially, a large meringue shell with high sides is baked, then filled with something rich and light [custard, whipped cream, …] and finally adorned with fresh fruit. Or chocolate, of course.
In their delectable book Meringue, authors Linda K. Jackson and Jennifer Evan Gardner have a whole chapter devoted to pavlovas:
Chocolate Angle
Raspberry
Chocolate Flecked with Chocolate Mascarpone and Strawberries
Brown Sugar Plum
Balsamic Strawberries
Banana Cream
Cherries Jubilee
Lemon with Lemon Curd and Blueberries
Kiwi with Lime Zest
Classic Berry
And what did Suzen do? Her own thing, of course. And I had not a complaint. This is the perfect dessert to answer the question: "What do I do with …"
We had peaches and blueberries in full summer abundance awaiting their fate. This no better ending for a perfectly ripe peach than meringue and whipped cream. Suzen followed the recipe for Classic Berry Pavlova but substituted the fruit du jour.
You make this on a day when the humidity is low and the fruit is fresh. It won't endure a night in the fridge, so make it just before consuming. Leftovers? No, not a chance. Soggy, sad, soggy. But why on earth would you have any leftovers?
If you want the elegance of a Russian ballerina, then your first slice of pavlova should be accompanied by a cold sample of fine dessert wine. Don't skimp with the pavlovas!
Classic Fruit Pavlova

Yield: serves 8

Ingredients:

For the meringue shell:

4 large egg whites, room temperature
1 teaspoon white vinegar
Pinch of salt
1 cup superfine sugar
1 teaspoon cornstarch
For the whipped cream filling:

1 cup heavy whipping cream
3 tablespoons powdered sugar
1 tablespoon pure vanilla extract
For the fruit topping:

4 cups of fresh berries, or
4 cups mixed of peach slices and blueberries
1 to 2 tablespoons of sugar [optional]
Preparation:

Begin with the meringue shell which will take a few hours from start to finish. Work that time into you meal planning.
Preheat your oven to 350⁰F.
In the bowl of an electric stand mixer fitted with the whisk attachment, beat the egg whites until foamy. Add vinegar and salt and beat on medium-high until soft peaks forms. Add the sugar, about a tablespoon at a time, beating until all of the sugar is incorporated. Continue beating on high until the meringue is stiff glossy peaks. Beat in the cornstarch, about 1 minute more.
Like a baking sheet with parchment paper. Pip or spoon the meringue into a 10-inch circle, making the sides higher than the center. Bake for 5 minutes then lower the temperature to 250⁰ and continue to bake for 1 hour more. Turn the heat off the oven but leave the meringue shell in the oven for 3 hours or more [even overnight] to that it contuse to dry. When completely cool, loosen the meringue by gently peeling it of the parchment or by sliding an offset spatula underneath the shell.
Whip the cream sugar and vanilla with an electric mixer until stiff.
Rinse the fruit and dry. Toss with sugar if you desire.
To assemble the pavlova, gently transfer the meringue shell to your serving plate. Spread whipped filling in your shell just up to the higher border. Top with the fruit in the design of your choice. The classic is a spiral. You can simply pile the fruit on for a less formal appearance.
Serve immediately.
Source: Meringue by Linda K. Jackson and Jennifer Evan Gardner

Photo Credits: Canon T2i, 18-55MM Macro lens, F/2.8, 1/100th second, ISO 200 and F/5, 1/50th second, ISO 3200 respectively