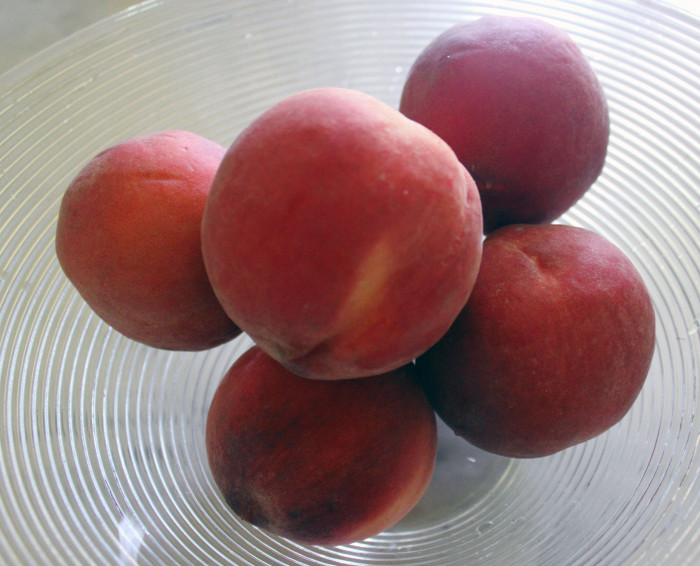 How can you drink a peach?
This is the latest agua fresca recipe in this summer's agua fresca marathon. And it's a delight. From The Perfect Peach, the key to this successful recipe is the first ingredient: 2 gushy peaches. The authors of The Perfect Peach, the clever Masumoto family, describe peaches in a spectrum of usabilites: hard, firm, with a little give, soft, gushy, bruised and mealy [which is a complicated word for not usable, just toss it].
Peaches with a little give or soft are the ideal ones for most recipes. But gushy, those over ripe ones that may have slight bruising, the ones that you have to eat over the sink, well, the gushy ones are what you want for an agua fresca. They are peach flavor bombs and should never go to waste.
The original recipe, shown below, calls for 4 to 6 cups of water. If you read this blog, then you know I love intensity of flavor. So, when I made this, I used only 2 cups of water. And, it was way too intense, even for me. I compromised, I added a cup of water, and I found 3 cups of water was just peachy. [I'm sorry, but if you think I was not going to use that terrible pun, well, then you don't know how immature I can be.]
In each instance when you make this, the amount of water actually depends on the gushiness of the peaches and their sheer physical size. So, I would suggest making this agua fresca light on the water side and diluting it as needed with additional water, just as I did.
---
Peach Agua Fresca

Yield: 4 to 6 servings

Ingredients:

2 gushy peaches, peeled, pitted, and quartered
¼ to 1/3 cup turbinado sugar
4 to 6 cups water
Squeeze of fresh lime juice
Ice cubes, for serving
Mint sprigs for garnish
Preparation:
Place the peaches, sugar, and water in a blender and process until the sugar has dissolved and the peaches are liquefied. Add the lime juice and process briefly to mix. Serve in tall glasses over ice. Garnish, if you wish, with mint sprigs.
Source: The Perfect Peach by Marcy, Nikiko and David Mas Masumoto

Photo Information Canon T2i, EFS 60 mm Macro Lens, F/3.5 for 1/30th second at ISO‑2500