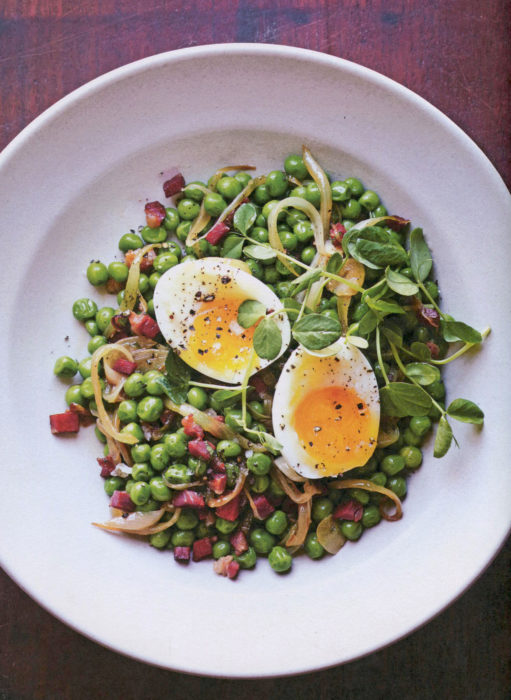 Sometimes I am intrigued by a recipe's ingredients. This dish begins by asking you for "a good glug of olive oil." A glug? Sounds grand.
In 100 Ways with Eggs you'll discover an array of recipes that range from breakfast to appetizers to dinner and, of course, dessert. Here's a main dish idea that is so beautiful you'll hesitate to stick a fork in it. Well, maybe that beauty will inspire you to start digging in right away. This dinner dish is satisfying and swift: you can be done in minutes and happy for the rest of the evening.
You can see my review of 100 Ways with Eggs right here tomorrow! After tomorrow, I'll put the link in for you all.
---
Peas, Ham & Eggs
Yield: serves 4
Ingredients:
A good glug of olive oil
3 ½ ounces cubed pancetta or bacon
1 onion, thinly sliced
1 garlic clove, thinly sliced
15 ounces frozen or canned peas
7 tablespoons chicken stock
A sprig of fresh mint, leaves only
4 large eggs
Sea salt and black pepper, to season
Pea shoots, to garnish
Preparation:
Heat the olive oil in a large frying pan/ skillet over medium heat and saute the pancetta or bacon.
When cooked through, add the onion slices and garlic. Saute until the onion begins to color and the pancetta or bacon begins to crisp up.
Add the peas to the pan with the stock and the mint leaves, season with a little black pepper and leave to cook over low heat with the lid on until most of the stock has evaporated. Set aside.
Fill a medium saucepan with water and bring to a boil. Add the eggs and time for 6-7 minutes, as you want them gooey in the middle. Remove the eggs with a slotted spoon and refresh in cold water to stop them from cooking.
Peel the eggs and slice them in half lengthways. Season with a sprinkling of salt and pepper and lay on top of the warm peas.
Garnish the plate with pea shoots and serve immediately.to transfer the cookies to a wire rack to cool completely. Repeat with remaining dough.
---
Source: 100 Ways with Eggs from Ryland Peters & Small, 2016