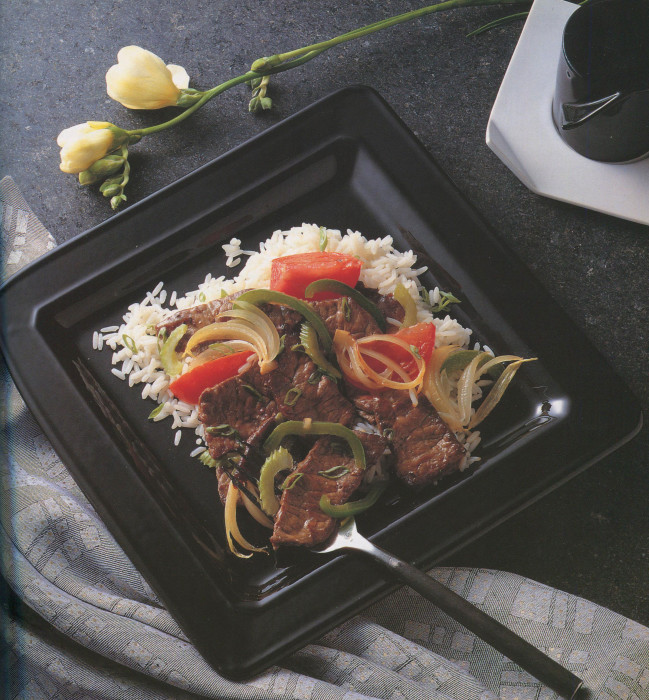 Recently I did a TBT cookbook review of Meat & Potatoes by Judith Choate. Published in 1992, the book is filled with classic recipes. Some, I think, so classic you may not have ever had them. Here's a recipe, Pepper Steak, that once was very popular but seems to have slipped away from our tables.
This is perhaps the prototype Chinese-American dish, maybe the first time some of us ever had soy sauce. It's a wonderful combination of protein and veggies, bathed in spicy sauce. It's a dish that deserves to return to our tables.
---
Pepper Steak

Yield: serves6

Ingredients:

One 1 ½ -inch-thick lean top-round steak
3 tablespoons vegetable oil
¼ cup light soy sauce
½ cup beet stock
1 teaspoon minced garlic
2 large green bell peppers, stemmed, seeded, and sliced
1 large onion, peeled and sliced
½ cup sliced celery
3 whole ripe tomatoes, cored and quartered
½ cup chopped scallions
1 tablespoon cornstarch dissolved in 1 tablespoon cold water
Preparation:

Slice steak into strips about 3 inches long and ¼ inch thick.
Heat oil in a deep-sided sauté pan over medium-high heat. When hot, add beef strips. Sauté, turning frequently, for about 5 minutes until all sides of meat strips are brown. Drain meat on paper towels and carefully wipe excess fat from pan.
Return meat to pan. Add soy sauce, beef stock, and garlic. Place over medium-high heat and bring to a boil. When boiling, lower heat, cover, and simmer for about 30 minutes or until meat is tender. Stir in peppers, onion, and celery. Cover and cook for about 5 minutes or until vegetables are crisp-tender. Add tomatoes and scallions. Stir in dissolved cornstarch. Raise heat and bring to a boil, stirring frequently but being careful not to break up vegetables. Boil for no more than 1 minute to slightly thicken. Serve hot with boiled rice, if desired.
This is an easy weeknight meal.
---
Source: Meat & Potatoes by Judith Choate [Simon & Schuster, 1992]