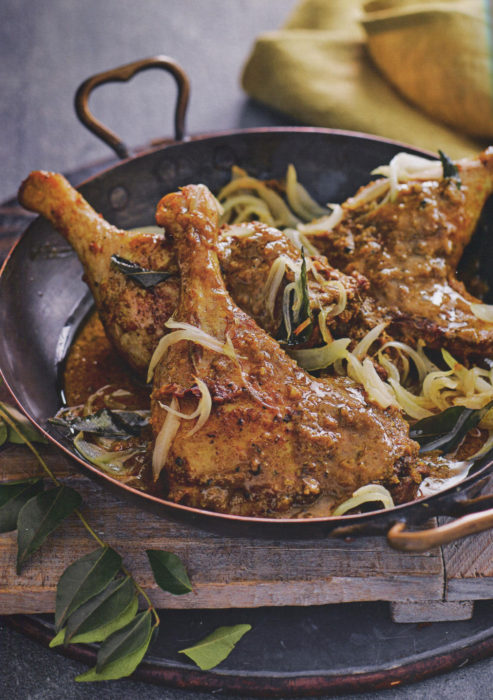 This recipe has three things I love: heat, duck and Indian style. It's from the marvelous The Indian Cooking Course by Monisha Bharadwaj. If you are interested in learning the deepest spicy details of Indian cooking, then I cannot recommend a better avenue to learn. And to enjoy.
This is a typical recipe of Monisha's: totally authentic and just a little demanding. Yes, there are almost 20 ingredients and, yes, it will take you about two hours to prepare. And, yes, you will love it. Duck legs are marinated in a sizzling curry paste. A curry broth is fashioned, and the marinated duck legs cooked long and slow. That intense flavor of the duck is finely complemented by an armada of Indian spices: ginger-garlic paste, chile powder, coriander, turmeric, garam masala, cardamom, cinnamon, onions and curry leaves.
Just enjoy the duck for what it is. If you try to figure out each individual flavor, you'll be quite distracted, if not mystified. Savor the moment. And that Indian beer you've chose to complement the meal.
Peppery Kerala Duck
Yield: serves 4
Ingredients:
4 shallots, chopped
2 teaspoons ginger-garlic paste [explained in the book which I urge you to get!]
1 teaspoon medium-hot red chile powder
3 teaspoons ground coriander
1 teaspoon ground turmeric
1 teaspoon garam masala
1 teaspoon freshly ground black pepper
3 green cardamom pods, seeds crushed and husks discarded
1 teaspoon ground cinnamon
2tablespoons malt vinegar
1 ¾ pounds duck legs, halved at the joint (leave the skin on or off as per your preference)
2 tablespoons vegetable or coconut oil
2 onions, thinly sliced
6 to 7 fresh or 10 dried curry leaves
Salt
Appam to serve [Indian bread, or your choice, even rice]
Preparation:
Put all the ingredients from the shallots to the vinegar in a blender and blitz to a puree, adding enough water to turn the blades. Season with salt and transfer to a bowl. Rinse out the blender with 3 ounces of water and set this aside.
Rub half of the curry paste onto the duck legs and set them aside to marinate for 30 minutes.
Heat the oil in a saucepan over high heat, add the sliced onions and cook for 8 to 10 minutes until very soft. Add the curry leaves and cook for 1 minute, then add the marinated duck legs to the pan and cook over high heat for 5 to 6 minutes to seal and brown the meat.
Stir in the remaining curry paste and pour in the reserved water from the blender. Bring the curry to a boil, cover, reduce the heat and simmer for 40 to 50 minutes, until the duck is tender and the sauce is thick, adding a splash of water from time to time if the curry dries up. The final dish should have a thick sauce coating the duck rather than a curry sauce. Season to taste and serve hot, with Appam or rice.
Source: The Indian Cooking Course by Monisha Bharadwaj [Kyle, 2016]