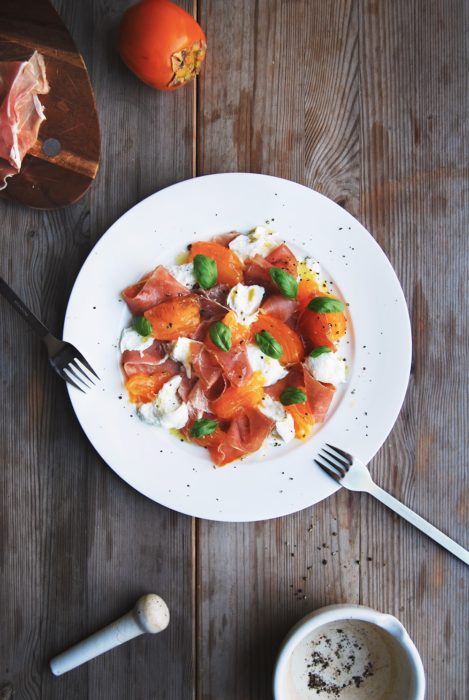 From the lovely Eat in My Kitchen by Meike Peters there comes this visually stunning salad. So pretty you may not want to eat it at first. Just muse over the arrangement of fruit and cheese and meat. And then enjoy the aroma of the dressing: a maple vinaigrette. Meike is an exceptionally creative culinary expert. Here, food from around the world is assembled in this grand dish: Asia, Europe and North America contribute the ingredients. You just need to contribute a little time and then sit back, look, smell and surely enjoy each bite.
---
Persimmons, Mozzarella, Prosciutto di Parma, and Basil with Maple Vinaigrette
Yield: serves 2 to 4
Ingredients:
For the dressing:
2 tablespoons olive oil
1 tablespoon white balsamic vinegar
½ teaspoon maple syrup
Fine sea salt
Ground pepper
For the salad:
2 very ripe and soft persimmons, peeled and torn into chunks
4 ½ ounces
(125 g) mozzarella di bufala, drained and torn into bite-sized chunks (double the amount for 4 servings)
8 very thin slices prosciutto di Parma or prosciutto di San Daniele
1 small handful fresh basil leaves
A few black peppercorns, crushed with a mortar and pestle (optional)
Preparation:
For the dressing, whisk together the olive oil, vinegar, and maple syrup. Season to taste with salt and pepper.
To fashion the salad itself, arrange the persimmons, mozzarella, and prosciutto on a large platter or individual plates. Drizzle with the dressing, sprinkle with the basil and crushed peppercorns, and serve immediately.
---
Recipe from Eat In My Kitchen – To Cook, To Bake, To Eat, and To Treat by Meike Peters, published by Prestel 2017.