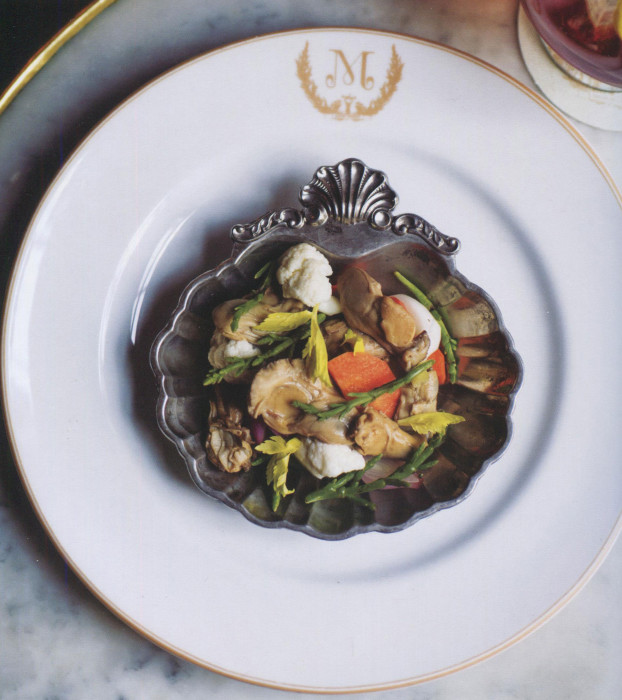 Seafood is often considered to be fragile. Fresh and lovely for a day or so, then rather not too alluring. What if you could make our oysters last for month? You can and it's simple: pickle them. You get your seafood flavor plus the tang of the pickling liquids. From Brooklyn Bar Bites [see my review here], this recipe will give you a large batch of appetizer bites to please a crowd. Or, you can make them all for yourself and just nibble for days. Like, up to 30 days!
---
Pickled Oysters

Yield: about 1 quart

Ingredients:

For the pickling spices:

1 teaspoon black peppercorns
1 teaspoon coriander seeds
½ teaspoon red pepper flakes
1 bay leaf
1 cinnamon stick, broken into 4 pieces
1 whole clove
½ cup packed brown sugar
¼ cup kosher salt
2 cups white wine vinegar
½ cup water
2 tablespoons Worcestershire sauce
1 teaspoon mustard seeds
For the oysters:

30 large, meaty East Coast oysters, such as Blue Points, shucked
1 lemon, thinly sliced
1 white onion, thinly sliced
Preparation:

To make the pickling spice: Put the peppercorns, coriander, red pepper flakes, bay leaf, and cinnamon stick in a small bowl and stir together. Transfer to a large saucepan and add the brown sugar, salt, vinegar, water, Worcestershire sauce, and mustard seeds. Bring to a boil and cook, stirring occasionally, until the salt and sugar dissolve. Set aside.
Bring a pot of salted water to a boil. Add the oysters and cook for 1 minute; drain.
Layer the oysters, lemon, and onion in a large clean jar with a lid. Pour the pickling liquid over them. Cover and refrigerate overnight before serving.
The oysters will keep, covered, in the refrigerator for up to a month.
And, when you serve them, do it with the elegance shown in this lovely photo by Jennifer May.
---
Source: Brooklyn Bar Bites by Barbara Scott-Goodman [Rizzoli, 2016]