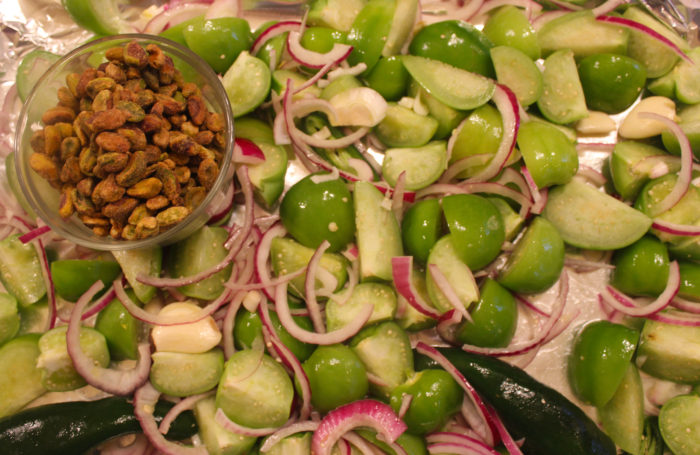 Last week I reviewed The L.A. Cookbook. Suzi and I had just returned from ten days in Sicily where we encountered seafood, artichokes and pistachios.
So, in The L.A. Cookbook, when I saw a recipe for Pistachio Mole, well, it had to be a message from God. We made it and even followed the suggestion to serve it with turkey. We cooked a turkey breast and served it with this mole.
The mole will be on our Thanksgiving table. Yes, we will still have gravy but this mole will be there for everyone to relish.
"I can't taste the pistachios," I told my wife. "Next time, we could have money and leave them out."
"No," was here solid reply. "They have impact. You have defective taste buds."
I probably do. No, I could not taste pistachio directly here, but there is an underlying sweetness that I can appreciate. Combining tomatillos with all the spices you see, particularly the cinnamon, makes this mole an intensity bomb.
Beyond turkey, this will be excellent with salmon or on top of a crisply cooked burger. The recipe says to serve hot, but I have tasted it cold, again on cold turkey, and it remains spicy and delectable. It's just the kind of condiment you want to keep around in your fridge all the time.
---
Pistachio Mole
Yield: 4 cups
Ingredients:
3 pounds tomatillos, husked
2 serrano chiles, stemmed
1 red onion, thinly sliced
4 garlic cloves
¼ cup extra-virgin olive oil
1 tablespoon ground cinnamon
2 whole cloves
2 teaspoons cumin seeds, toasted
3 cups chicken stock
1 ½ cups roasted shelled pistachios
1 cup cilantro leaves
Salt
Preparation:
Preheat the oven to 375°F. Line a baking sheet with foil.
Wash the tomatillos to remove their sticky residue, pat dry, and slice into wedges. Combine in a large bowl with the chiles, red onion, and garlic, and toss with the olive oil till well coated. Spread the vegetables on the prepared baking sheet and roast until deeply charred but not burnt, about 25 minutes. Keep an eye on them and shake the pan every few minutes.
Transfer the charred vegetables to a large saucepan. Add the spices and stock and bring the mixture to a simmer over medium heat. Cook, stirring occasionally, until the vegetables are tender, about 10 minutes. Add the pistachios and simmer 10 more minutes.
Carefully transfer the hot mixture to a blender and puree. With the machine running, add the cilantro and continue to puree until smooth. Season with salt. Serve while hot.
---
Source: The L.A. Cookbook by Alison Clare Steingold [Rizzoli, 2018]
Photo Information [Top]: Canon T2i, EFS 60mm Macro Lens, F/3.5 for 1/30th second at ISO‑400
Photo Information [Bottom]: Canon T2i, EFS 60mm Macro Lens, F/3.5 for 1/40th second at ISO‑250