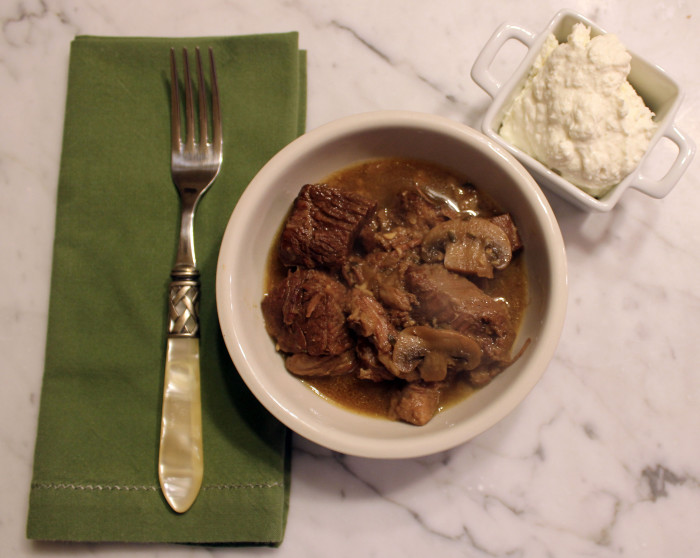 Yesterday's post was for Horseradish Cream:
https://cookingbythebook.com//recipes/horseradish-cream-from-curtis-stone-and-beyond/
The cream is a dream unto itself, useful in myriad ways atop proteins or salad. Heck, you can use it instead of mayo in that next roast beef sandwich.
But in Curtis Stone's newest book, Good Food, Good Life, this cream is the "frosting" atop the Porcini-Braised Beef. What is braising? It's slow cooking in hearty liquid that just covers the meat. I think of it in more military terms. Braising meat is like laying siege to city in medieval times. You take your time, you batter, you wear down, and ultimately you conquest.
Braising is idea for cheaper cuts of meat, like beef chuck roast. It's much cheaper than steak and it has a reputation for toughness. But, in this preparation, the beef is superb. It does, really and truly, fall apart in your mouth. Why not? It's been cooked for four hours in wine and beef broth. The toughness has literally been bled out of the meat and, particularly because of the mushrooms, flavor seems to have entered into every last molecule.
This was our first dish we prepared out of Good Food, Good Life and it was a happy and indulgent success.
We did not alter the recipe one single syllable. But next time, I could see adding some carrots, onions, or potatoes into the mix. Not for all four hours, say, but for the last 90 minutes for so. The broth from the braising is indulgently rich and deserves some vegetable accompaniment.
This dish is perfect for a busy weekend when you have things to do and your stovetop can carry the load, four hours at a time.
---
Porcini-Braised Beef with Horseradish Mascarpone

Yield: serves 6

Timing: prep for 20 minutes and cook for 4 hours

Ingredients:

½ ounce dried porcini mushrooms
1 3-pound beef chuck roast, cut into 8 large chunks
Kosher salt and freshly ground black pepper
3 tablespoons olive oil
1 cup dry white wine
3 cups low-sodium beef broth
1 pound white mushrooms, thickly sliced
4 shallots, sliced
8 garlic cloves, chopped 1 bunch fresh thyme
Horseradish Mascarpone (see the link above)
Preparation:

Preheat the oven to 300°F.
Using a clean coffee grinder or spice mill, grind the porcini mushrooms into a powder.
Heat a Dutch oven or other wide ovenproof pot over high heat. Season the beef with salt and pepper. Add the oil to the hot pot, then add the I beef, and cook, turning the meat occasionally, for about 10 minutes, or until well browned on all sides. Add the wine and stir to scrape up I any browned bits on the bottom of the pot, then add the broth, mushrooms, shallots, garlic, thyme, and porcini powder and bring to a simmer.
Cover the pot and place it in the oven. Braise the beef, turning the pieces of meat over halfway through the cooking, for 3 hours.
Uncover the pot and continue cooking the beef for about 1 hour, or until it is tender enough to pull apart with a spoon and the liquid has reduced by about one-third. Discard the thyme stems.
Transfer the beef to four shallow serving bowls, spoon the mushrooms and braising liquid over, and serve with the horseradish mascarpone.
Source: Curtis Stone Good Food, Good Life [Ballantine Books, 2015]

Photo Information [top picture]: Canon T2i, EFS 60 mm Macro Lens, F/4.5 for 1/30th second at ISO‑400