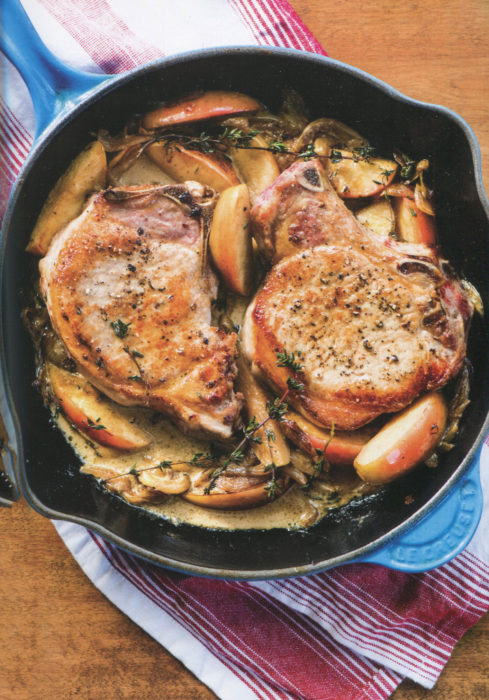 Mardi Michels wrote In the French Kitchen with Kids for kids. But, golly, we are all kids at heart. She got this recipe from a friend who has cooking school in Lyon. It is a French recipe through and through. Perfect fall apples are combined with perfect fall pork. Oh and some onion and a sauce of chicken broth and heavy cream. Try to use homemade broth or stock if you can, something rich and flavor dense.
The picture here speaks volumes. The combination of pork and apples is classic. But this classic is best enjoyed when the apples are fall fresh and the pigs have spent the summer feasting away. Now feasting is your turn.
---
Pork Chops with Apples [and onions and cream]
Yield: serves 2
Ingredients:
2-3 tablespoons olive oil
2 large (7 oz/200 g each) bone-in pork chops
2 medium (14 oz/400 g total) red-skinned sweet apples (like Gala), skin on, cored and thinly sliced
1 large (7 oz/200 g) yellow onion, thinly sliced
¼ cup (60 ml) chicken broth
¼ cup (60 ml) heavy (35%) cream
½ tablespoon dried thyme
½ teaspoon flaky sea salt
Freshly ground black pepper
Preparation:
Preheat the oven to 400°F (200°C).
Heat 2 tablespoons of the olive oil in a large ovenproof skillet (large enough to hold the pork chops and the apples and onions-around 10 inches/25 cm in diameter) over medium-high heat.
Cook the pork chops for 4 to 5 minutes on each side, until golden brown. Remove them from the skillet, place them on a plate and cover loosely with aluminum foil.
If there is no fat left in the pan, add the remaining 1 tablespoon of olive oil, then add the apples and onion and cook for about 5 minutes. stirring occasionally-they will just be starting to soften and brown.
Add the broth and use a wooden spoon to scrape up any brown bits from the bottom of the skillet. Keep those brown bits in the pan, as they add flavor to your dish.
Add the cream, dried thyme, salt, and some pepper and stir to combine.
Place the pork chops back in the skillet and arrange them between the apples, onions, and sauce.
Place the skillet in the oven and cook, uncovered, for 15 minutes, or until the pork registers 155°F (68°C) on a meat thermometer. Obviously, the cooking time will depend on how thick your pork chops are.
Remove the skillet from the oven, cover it loosely with aluminum foil and allow to rest for 10 minutes before serving. The internal temperature of the pork should have reached 160°F (71°C) by this time.
---
Source: In the French Kitchen with Kids by Mardi Michels [Random House, 2018]