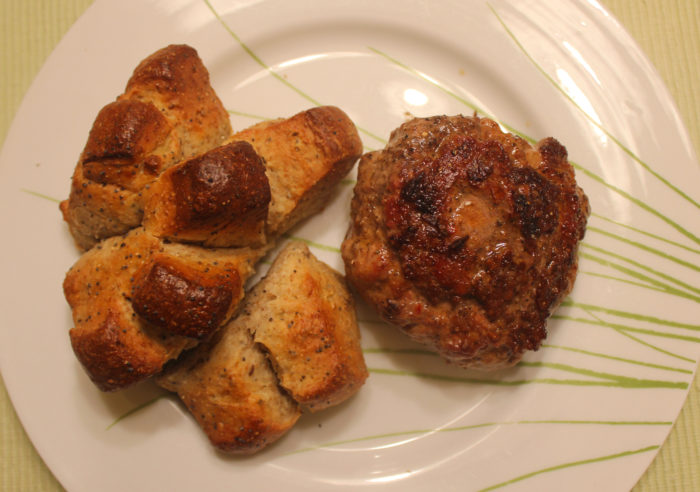 "I'm sorry we are out of chorizo," the butcher told my wife.
"Oh," I began.
"Not so fast," Suzen had turned towards me. "When you need to you improvise. We are about to improvise."
This recipe from Emeril Lagasse is from his great grilling book, Emeril at the Grill. Emeril has no beef with beef. We all love beef burgers. But great burgers can be made other ways. His recipe here is for a mixture of ground pork and chorizo.
When we could not score some chorizo, we switched to Italian sausage. And a better match for that sausage is ground lamb instead of pork.
So, the recipe below, if you want to follow our lead, just substitute and mix away and cook away and eat away.
Ah, the picture does not show a hamburger bun. Emeril notes these are big burgers, so we used a loaf of challah money bread, little balls of challah dough assembled into one grand loaf. We would break off a piece of challah, adorn with the Green Chile Mayo, and slap a piece of burger on top. We devoured them, one ball of challah at a time. Wonderful!
---
Pork and Chorizo Burgers
Yield: serves 4
Ingredients:
8 ounces chorizo, casings removed, cut into 1-inch pieces
1 ½ pounds ground pork
1 tablespoon minced garlic
2 teaspoons Worcestershire sauce
1 ½ teaspoons Emeril's Original Essence or Creole Seasoning
¾ teaspoon salt
¼ teaspoon cayenne pepper
4 large hamburger buns,
or four 6-inch lengths French bread, split in half horizontally
1 cup coarsely grated
Pepper Jack cheese (optional)
Green Chile Mayo (recipe comes in tomorrow's post)
Preparation:
Preheat a grill to medium-high.
Place the chorizo in a food processor and process until finely chopped (the sausage should appear crumbly). Transfer the chorizo to a large bowl and add the ground pork, garlic, Worcestershire, creole seasoning, salt, and cayenne. Mix gently but thoroughly being careful not to overwork the mixture. Form mixture into four 1-inch-thick patties, about 8 ounces each, and place them on the grill. Cook to a minimum internal temperature of 160°F, 5 to 7 minutes per side. During the last 2 minutes of grilling, toast the buns, and if desired, sprinkle the cheese over the tops of the burgers and cook until melted.
Place the burgers on the bun bottoms and set them on plates. Generously top each burger with 2 tablespoons of the Green Chile Mayo, and place the tops of the buns over the sauce. Serve immediately.
Note: These are big burgers! If you like, form them into smaller patties for an audience with dainty appetites, but please adjust the cook time accordingly.
---
Source: Emeril at the Grill by Emeril Lagasse [William Morrow, 2009]
Photo Information: Canon T2i, EFS 60mm Macro Lens, F/3.5 for 1/30th second at ISO‑320