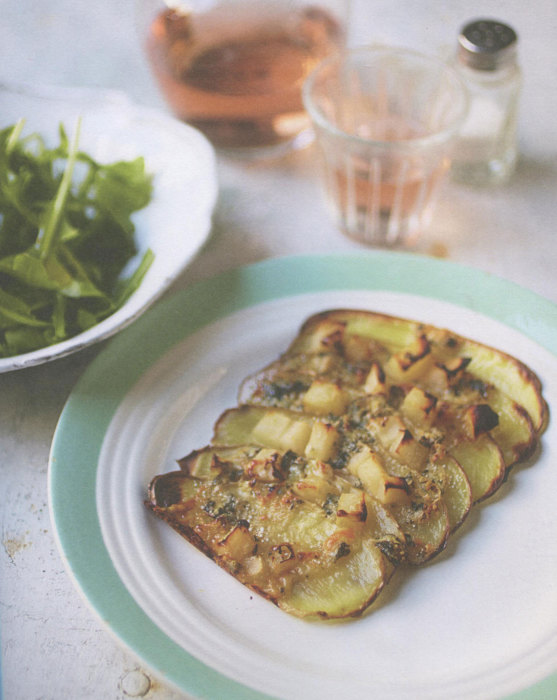 In the coming days, we are all likely to be preparing a feast or two. Thanksgiving has to have had the turkey and mashed potatoes. But for these coming days, perhaps another meat might appear on your table. And, while mashed potatoes deserve to be called the National Food, there are other ways to offer potato elegance on the table.
For example, from The Little Paris Kitchen by Rachel Khoo, here is potato idea with elegance. That lovely picture above is from the book, and it just might entice you delve into this rather simple dish, yet powerfully flavored dish. Pears and blue cheese are a natural pair [no pun intended] that we enjoy in salads year round. Potatoes and blue cheese are an equally ideal couple, though one less frequented on our table.
So, here we marry all three — potatoes, pear, and cheese — to provide a side worthy of a hearty bird or roast.
For your Christmas meal, surprise your family with this different way to offer up your Christmas pear.
Yes, pears have a long tradition as the Christmas fruit. Remember: a partridge in a pear tree?
---
Potato and Pear Galette with Roquefort

Yield: serves 4

Ingredients:

4 firm-fleshed potatoes [such as fingerlings]
1 firm pair
4 ounces Roquefort of other blue cheese
Preparation:

Preheat the oven to 350°F. Peel the potatoes and cut into 1/16-inch-thick slices. On a baking sheet lined with parchment paper, overlap the potato slices tightly to make four rectangles. Peel the pear and cut into small cubes, then sprinkle the cubes over the potatoes and crumble the cheese on top. (Keep the cheese in the middle, otherwise it will drip off the potatoes when it melts.) Bake for about 20 minutes or until the potatoes turn golden brown and crisp around the edges. Serve immediately.