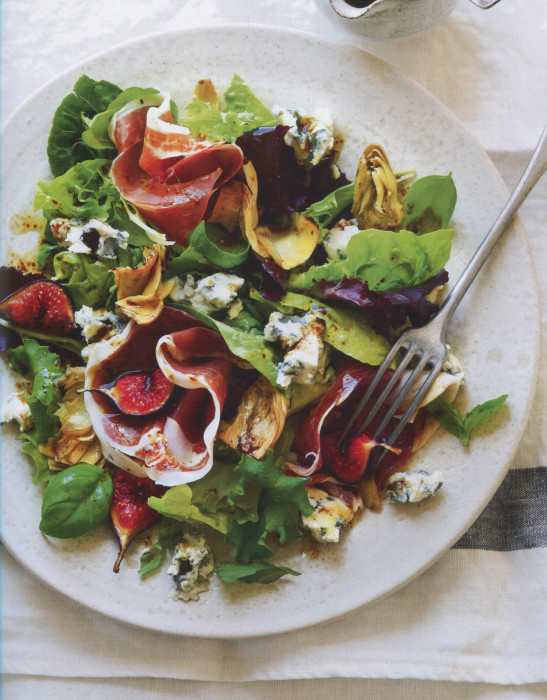 If you can find figs now, and you might, then here is a lovely salad that can be the centerpiece of a Sunday Brunch. A Superbowl Sunday brunch.!
Created with a cascade of flavors and colors and textures, this salad is one of the "appetizer" ideas you'll find in the lovely book Appetizers from Ryland Peters & Small. Small dishes, "appetizer" dishes can have enormous impact and provide exquisite satisfaction. This is one of those dishes.
Figs, cheese, artichokes, and prosciutto. What more can you desire?
---
Prosciutto, Artichoke, Fig and Roquefort Salad with Balsamic Dressing
Yield: serves 4
Ingredients:
For the salad:
4 tablespoons butter
4 fresh figs (skin on), quartered
4 large handfuls of salad leaves of your choice
Generous 4 ounces Roquefort cheese, crumbled
16—20 cooked artichoke hearts, chopped
5 ½ ounces prosciutto slices
Small bunch of fresh basil leaves
Salt and freshly ground pepper
For the balsamic dressing:
2 tablespoons olive oil
1 tablespoon balsamic vinegar
Preparation:
Preheat the grill/broiler to high.
For the salad, rub a little butter on all the cut surfaces of the figs, put them on a baking sheet, cut-sides up, then pop them under the preheated grill/broiler for 6-8 minutes, turning once. Let them soften and start to brown, but don't let them shrivel up too much. Remove from the heat.
Meanwhile make the dressing by combining the olive oil and vinegar in a bowl, seasoning with salt and pepper and mixing well.
Dress the salad leaves with most of the dressing, reserving a little for drizzling on top. Divide the lettuce among the serving plates, then pop the Roquefort, grilled figs, artichokes, Prosciutto slices and basil leaves on top, dividing them evenly between each plate. Drizzle the salads with the remaining dressing and serve straight away.
---
Source: Appetizers from Ryland Peters & Small [2016]