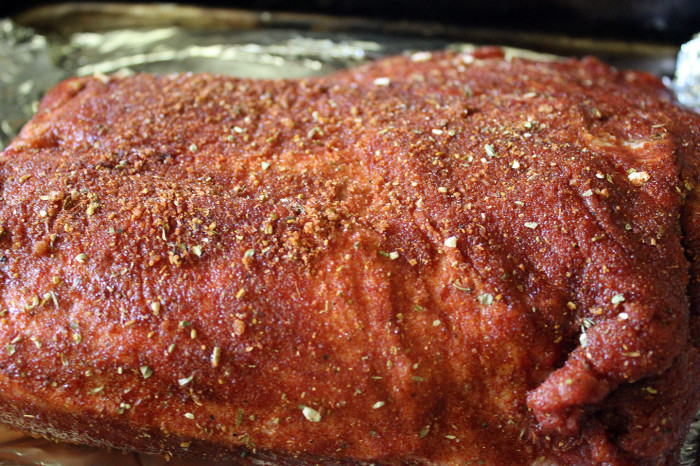 As the picture at the bottom shows, pulled pork is literally meant to be pulled, not cut, apart. We think of this as an American dish, and there are varieties across the country — although this is dominantly a Southern dish. But variants of pulled pork abound around the world. After all, it serves a basic purpose: how can you take a barely edible cut of meat and transform it into something that people actually appreciate.
The answer is twofold: spice and time. You apply a lot of spices to the outside, and you cook for a long time over relatively low heat.
We had made a large, large quantity of the House Rub from Pitt Cue Co.: The Cookbook when we made their barbecued chicken last week. With leftover rub, we had a head start. [The Pitt Cue Co. recipe for pulled pork shoulder their way is different than this one, involves both rub and a complicated sauce, and is something Suzen and I will try later this summer for you.]
Suzen stopped at The Smokehouse of the Catskills, a German-family institution just outside Saugerties. I sat in the car and waited and waited. Suzen can enter a meat market and look at the sausages as if they were the Mona Lisa. She did emerge with a smile and just a bit of a puzzled look.
"It's six pounds, but boneless and skinless. This is going to be an experiment."
Not, it turns out, much of a risk experiment.
Suzen patted down the pork with the House Rub, recipe below. Then, instead of using an outdoor smoker of some kind, we reverted to our trusty Cameron indoor smoker. Across the bottom of the smoker, she put a few tablespoons of apple chips and then just dusted them off with some mesquite chips as well.
Why not just use mesquite because we are smoking? Five hours of mesquite is a lot, a lot of smoky flavor. We wanted to taste meal, not charcoal.
We put the pork in the Cameron metal box and closed the lid. We stovetop cooked for a mere 8 minutes. Then put the sealed box into a preheated 300°F oven. That's really it: rub, stovetop cook, oven cook, pull apart with a fork.
The Cameron box is metal with a very tight fitting lid. You do get a wonderful smoked result, but the box captures and employs all the moisture that is released from your meat. So the meat will definitely taste smoked, but it is most certainly not dry.
How did we serve this lovely dish as a main course? We didn't. For next weekend I'm going to post the Pitt Cue Co. British version of the Iceberg Wedge. No bacon here. It's pulled pork!
In the meantime though, before the salad recipe, feel free to smoke away. A well-constructed pulled pork is delicious. And I do invite you to look into the Cameron smokers. Honestly, we use ours regularly and have loved it for decades.
House Rub
Yield: 10 ½ ounces
Ingredients:
1 ½ tablespoons fennel seeds
1 teaspoon cumin seeds
1 teaspoon black peppercorns
1 teaspoon coriander seeds
½ cup dark brown sugar, packed
¼ cup granulated sugar
1 tablespoon garlic powder
⅓ cup fine salt
2 tablespoons smoked paprika
¼ cup regular paprika
1 teaspoon dried oregano
1 teaspoon cayenne
Preparation:
Toast the fennel seeds, cumin seeds, peppercorns, and coriander seed in a dry pan over medium heat for a few minutes, shaking the pan, until the spices release an aroma. Tip into a bowl and let cool.
Blitz the toasted spices in a blender to a rough powder. Combine with the remaining ingredients and mix thoroughly. Keep in a sealed container for up to 1 week.
Sources: House Rub from Pitt Cue Co.: The Cookbook
Photo Information [Top]: Canon T2i, EFS 60 mm Macro Lens, F/4.5 for 1/40th second at ISO-3200
Photo Information [Bottom]: Canon T2i, EFS 60 mm Macro Lens, F/5 for 1/80th second at ISO-3200