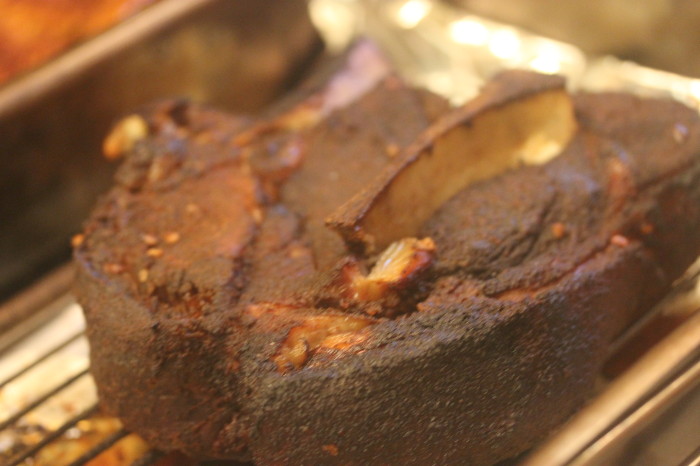 Pulled pork. Where would you go to find a recipe? The Carolinas for sure. And that very reply will draw fire from friends in Texas and Memphis and … There are a hundred brilliant ideas for pulled pork Americana style.
Which is why I am giving you this very authentic recipe from Yvette van Boven's wonderful book Home Made Winter. Yvette was praised extensively for her first book Home Made. Now, in the Winter book, she focuses on treats, like pulled pork, that make for hearty winter menus.
I know, it's only August but the headlines today were that the Farmers' Almanac is predicting a cold winter. A brutal winter. Time to plan ahead.
Yvette does have a new book out, Home Made Summer, and I'll post from that, too. But for now, let us work with Winter. You can eat pulled pork year round. And Yvette is clearly an expert. Technically, she's not quite American. She splits her time between Amsterdam and Paris.
Apparently, pulled pork has gone worldwide. No safe haven for the hogs.
This recipe is easy, but takes time. You will get an exceptional hunk of meat. We used a real stovetop smoker and the lid barely fit on our thick slice of pork shoulder. The result was a deep cocoa color on that final meat, which was delicious and a tad on the dry side. Here you'll want barbeque sauce on the side to go with the deeply smoked flavor.
If you don't have a stovetop smoker yet, what is your issue? Look up the Cameron line of smokers and woodchips. You will thank me.
Pulled Pork
Yield: enough for 6+ people [assume they all want seconds]
Ingredients:
2 tablespoon paprika [the best you can find]
2 tablespoon chile flakes
2 tablespoons brown sugar
1 tablespoons salt
1 3 ¼ pound boneless pork shoulder
Preparation:
The night before, make the rub with the paprika, chile flakes, brown sugar and salt. Rub your meat around all sides and corner with the rub, then refrigerate in a plastic bag. [You can do this step the same day but overnight is overnight.]
Preheat your oven to 300⁰F. Place 6 or more tablespoons of wood chips in your stovetop smoker.
Place the meat on top of a rack in the smoker, cover and place in the oven. Wait 5 hours. You can check the temperature then. You want an internal temperature of 175⁰F.
Pull the meat away with 2 forks. Eat on a roll with a lick of mustard or your favorite barbeque sauce. Pickles are a welcome addition.
Source: Home Made Winter by Yvette van Boven
Photo Credits: Canon T2i, 18-55MM Macro lens, F/2.8, 1/40th second, ISO 3200