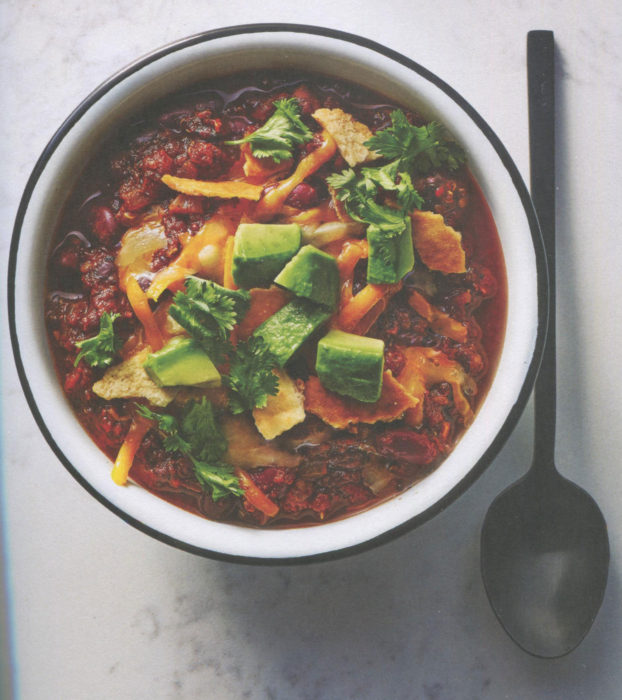 Chili is a most welcome summer meal. Yes, the days and nights can be warm. This dish has heat. The solution? Good beer, chilled to be ice cold.
There is no meat in this chili, but I don't think you'll ever notice that fact. You'll find some surprising flavors here: unsweetened cocoa powder and cinnamon. In chili? Yes. Beans aplenty: kidney and black bean, plus the quinoa.
Pair this with a salad, perhaps some grilled corn, and you have a lovely summer meal. No matter what the temperature.
Quinoa Chili
Yield: serves 8
Ingredients:
For the chili:
1 tablespoon olive oil
1 ½ cups diced sweet onion
2 ¼ teaspoons kosher salt, divided
4 cloves garlic, minced
1 ½ tablespoons chili powder
1 tablespoon cumin
1 tablespoon unsweetened cocoa powder
1 ½ teaspoons cinnamon
2 (28-ounce) cans crushed fire-roasted tomatoes
2 (15-ounce) cans kidney beans, drained and rinsed
2 (15-ounce) cans black beans, drained and rinsed
1 ½ cups water
¾ cup uncooked red quinoa, rinsed
Squeeze of honey (optional)
Squeeze of Sriracha (optional)
For the garnish:
Grated cheddar or Monterey Jack cheese
Chopped fresh cilantro
Crumbled pita chips
Diced avocado
Preparation:
Heat a Dutch oven over medium. Once warm, add the oil to the pan. Add the onion and ¼ teaspoon of the salt to the pan. Sauté for 4 minutes until tender, stirring occasionally. Add the garlic, chili powder, cumin, cocoa powder, and cinnamon, and cook for 30 seconds more. Turn the heat to medium-low, and add the tomatoes, beans, and the remaining 2 teaspoons kosher salt. Stir to combine. Cook for about 10 minutes on a low simmer, stirring occasionally.
Add in the water and quinoa and cook covered for 25 minutes more or until the quinoa is tender. You'll know it's ready when the white ring on the quinoa grain is visible. Taste and add more salt if necessary. To add heat, add Sriracha. To cut the acidity, add honey. Serve and garnish as desired.
NOTES
Different variations of quinoa will yield different cook times. Look for the visible white ring on the quinoa grain to detect doneness. For variations that take longer to cook, more water may also be necessary. For added sweetness, for example, stir in sautéed. If making in advance, omit adding the quinoa and water until just before serving. Reheat the soup and add the quinoa and water, cooking until tender.
INGREDIENT TIP
Toast your spices. When making a spice-heavy dish, like this one, it's best to toast them first to keep them from tasting dusty.
Source: The Minimalist Kitchen by Melissa Coleman [Oxmoor House, 2018]