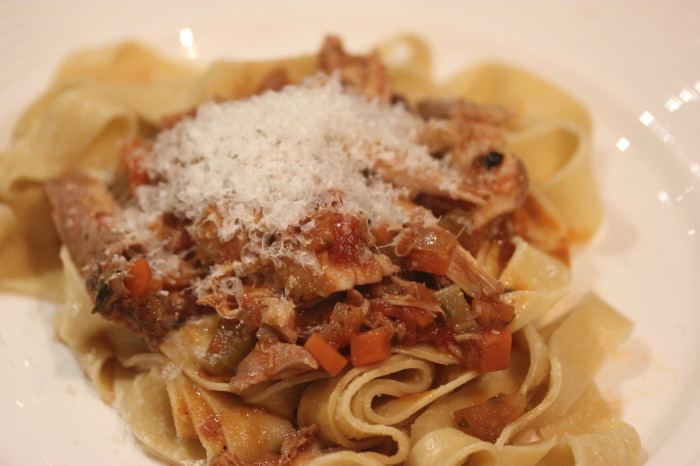 For thirty years, I have known that the most romantic setting is the West Village just after dusk on a snowy night, before footsteps or tires or ploughs have disturbed a new inch high dusting. You can walk, with care, and your feet crunch down to a sidewalk so cold and slippery that you have no choice to entwine your arms with the person beside you.
Nothing could be better. And that's just the scene that Suzen and I shared last Saturday. It was picture perfect. So few people or cars that you could hear the purring rat-a-tat-tat as the snow hit the ground.
And then, it got more than perfect. We were on Bleecker Street between 7th and 6th Avenues. We entered the warmth of Ottomanlli's, the justly famed butcher shop that has been a focal point of Village life since the 1940's.
"We're here for the rabbit," Suzen announced.
One of the "boys" put a fresh, not frozen, critter on the counter before us.
"Can you, can you cut it up please?" Suzen asked. It just looked too much like a bunny for her to handle and I sure as heck wasn't about to …
Ottomanelli's is the spot for "regular" meat and certainly for game: bear, ostrich, rabbit, … You can wander in and get what you want, or they will help you find it. They are daily the suppliers of meats to Cooking by the Book because we just need the best. It's a delight to have the "best" place be so warm and charming.
Home we carefully went, step by step. The rabbit swinging between us. Snow falling. Appetites growing.
The recipe below, from the superb Sauces and Shapes, is one that you will treasure. I say rabbit, but the recipe says hare. Same critter, especially when it is in pieces. Sauces and Shapes is a new book, reflecting decades of experience, research and culinary love from maven Oretta Zanini de Vita. This Tuscan recipe will make you feel you are in the sunny autumn days when Tuscan hunters go in search of summer-fed hares. This ragu is strikingly dense in flavor. The veggies alone give it dense substance. Adding rabbit and serving over freshly made egg pasta will give you just the Italian feast that Sauces and Shapes desires that you treasure.
Did we change the recipe? Yes. Our rabbit was fresh and not wild so we skipped the 24 of marinating in vinegar and water. It was big. And we like ragu, so we actually doubled the proportions of everything below, except we stayed with one rabbit. We now have two containers of rabbit ragu sitting in our freezer. The next time it snows, we are prepared.
Ah, the pasta. If Ottomanelli's is on its 7th decade in the Village, then a few blocks away is Raffetto's, now 108 years old. The pasta is egg and water and flour and a heavy dose of magic. They sell so much of it now, that it is made in New Jersey but still sold retail in the little store on Houston Street, just off 6th Avenue. Cash only. Closed on Mondays. If you eat pasta in Soho, you are probably eating Raffetto's. Eat at Cooking by the Book and you surely are.
How good was this rabbit? Monumental. And, no, it does not taste like chicken. It's rabbit, distinctive, delectable, and at times even romantic.
Rabbit Ragu [Ragu di leper]

Yield: 4 very generously, up to 8 with side dishes

Ingredients:

1 whole hare [about 5 ½ pounds
1 cup red wine vinegar
6 tablespoons extra virgin olive oil
1 yellow onion
2 cloves garlic
1 small rib celery
1 carrot
6-8 sprigs parsley
5 fresh sage leaves
1 sprig fresh rosemary
1 bay leaf
2 sprigs fresh thyme
16 ounces cannel, peel tomatoes, with their juice
Salt to taste
Freshly ground black pepper
1 cup aged Chianti or other Tuscan staple
3 tablespoons Kosher salt for cooking the pasta
1 pound of pasta, ideally freshly made
Preparation:

Place the hare in a nonreactive container just big enough to hold it. Add the vinegar and just enough water to cover. Add the vinegar and just enough water to cover. Cover he container and leave in a cool place to marinate (preferably not in the refrigeator0 for 24 hours to eliminate the gamy odor.
When you are ready to make the sauce, removed the hard from marinade and rinse it well under running water. Separate and reserve the heart and liver, which butchers usually include with the rest of the hare. Remove the discard any blood and membranes. Cut the hare in 6-8 pieces and dry on paper towels. Dice the heart and liver.
Put the oil in a large saucepan or deep skillet, preferably terracotta. Chop finely together he onion, garlic, celery, carrot, parsley, sage, and rosemary needles 9inn the food processor if desire), and add to the oil. Add the bay leaf and thyme leaves and sauté over low heat for about 10 minutes, or until the onion transparent and the other vegetables cooked through. It should look like this: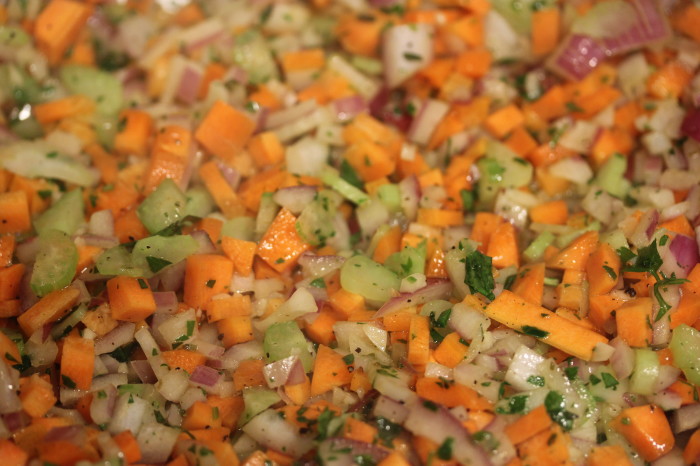 Add the pieces of hare, and the diced heart and liver, and brown evenly over medium-high heat, turning often, for 6 to 7 minutes more, or until the meat is nicely browned. Like this: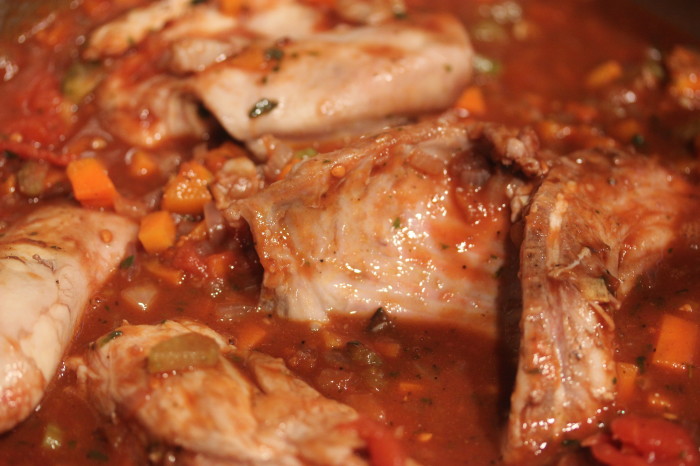 Scrape up the brown bits form the bottom of the pan and add the tomatoes, the salt and a few grinds of pepper. Lower the heat to the minimum, cover and simmer for about 2 hours. As it cooks, add the red wine a few tablespoons at a time, stirring often so the sauce does not stick to the pan. When the meat is completely tender and falling apart, remove from the heat. Fish out and discard the bay leaf.
Remove the meat form the sauce. When it has cooled somewhat, bone the meat with your hands and chop coarsely. Stir it back into the sauces.
This point the sauce can be stored in the refrigerator or frozen for a cold night.
When you are ready to eat, bring 5 quarts of water to boil in an 8-quart pot over high heat. Add 3 tablespoons kosher salt, and then add 1 pound of pasta. Cook, stirring occasionally, until al dente. Drain the pasta, plate, adorn with ragu and serve. Offer salt, pepper, and cheese on the table.
Source: Sauces and Shapes by Oretta Zanini de Vita and Marueen B. Fant

Photo Information: Canon T2i, EFS 60mm lens, multiple shots, typical value F/3.2 for 1/100th second at ISO 1600.